Lore:Direnni Tower
The UESPWiki – Your source for The Elder Scrolls since 1995
This page is currently being redesigned for the Lore Places Project (LPP).
The page may need work to meet the standards outlined on the project page.
This page or parts of this page were previously transcluded to other pages per this discussion.
This page should be checked for potential unrelated lore and other information. Please remove this banner when the page has been cleaned up.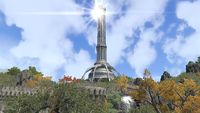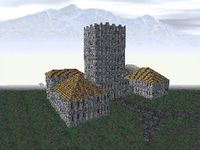 The Direnni Tower, also known as the Adamantine Tower, Ada-mantia,[1] Ur-Tower,[2] and Tower Zero,[3] is a tall, circular, and ancient tower at the highest point of the Isle of Balfiera in the Iliac Bay. The Tower was used as a fortress, prison, and palace by the Direnni Hegemony, but its true purpose has remained a mystery. The latest magical divination of its age places its construction around ME 2500, making it the oldest known structure in Tamriel. The tower has been modified several times over the years, but the cylindrical core of metal has not been touched and is rumored to extend as far into the ground as it does protrude above it, and its depths have never been thoroughly explored.[4]
After the Direnni gained power on Balfiera around 1E 461[5], they built a keep around the Towers base. However there are even older catacombs beneath said keep, which the Direnni didn't build.[3]
According to historical lore of the Dawn and Merethic Eras, the Direnni Tower was created by the Aedra as a place for discussing the creation of Mundus.[6] The tower was then used by the Gods for discussing the punishment of Lorkhan for his trickery of conceptualizing Mundus, the decision being to cast Lorkhan's heart from the tower and into the mortal world below.[7] When Magnus departed from the near-formed Mundus, the Gods that followed him abandoned the tower, leaving behind the secrets associated with it.[7]
See Also
[
edit
]
References
[
edit
]
^ Lord of Souls — Gregory Keyes
^ Pocket Guide to the Empire, 3rd Edition: All the Eras of Man, A Comprehensive History of our History — Imperial Geographical Society,

3E 432