Lore:Daedric Titan
The UESPWiki – Your source for The Elder Scrolls since 1995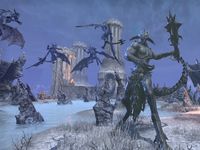 Daedric Titans, commonly referred to simply as Titans, are giant winged Daedra that serve Molag Bal as war-slaves. They were first created in imitation of the dragons of Nirn when Bal's interrogation of Boziikkodstrun proved fruitless. After modifying Boziikkodstrun's skeleton and substituting his soul for a Daedric vestige, Bal transformed him into the first Titan.[1] Daedric Titans are anatomically similar to dragons, although with dark black skin and prehensile frontal limbs. They have the ability to speak a spell of flaming essence-drain that can debilitate an opponent with a single word, similar to the power of the thu'um.[1] They are notoriously difficult to kill.
According to some sources, Titans were released upon Tamriel for the first time[nb 1] during the attempted Planemeld of the Second Era. Specifically, Molag Bal released them into the skies over the Imperial City when a portal to Coldharbour was opened above the White-Gold Tower in 2E 582.[2] Daedric Titans eventually came to serve other Daedric Princes, such as Boethiah, who had them summoned to fight mortals for her amusement.[3] Mehrunes Dagon has at least one Ash Titan in his army. Unlike its blue cousins, Ash Titans have red skin, and breathe regular flames rather than blue cold-fire.[4]
Molag Bal has referred to the titan Ozozzachar as his son.[8]
Sotha Sil constructed a Clockwork Titan to house the soul of Saint Olms the Just during an experiment to see if he could grant mortals everlasting life.[9]
See Also
[
edit
]
Gallery
[
edit
]
The skeleton of a Daedric Titan in Artaeum
References
[
edit
]