Lore:Black Kiergo
The UESPWiki – Your source for The Elder Scrolls since 1995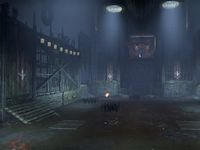 Black Kiergo (sometimes spelled as Black Keirgo)[1] is one of the districts found in Senchal, a major city in the province of Elsweyr. It is infamously known as the squalid and dangerous slums of Senchal, where illicit Moon-Sugar dens are found across the streets, populated by Khajiit and nobility alike.[1] In the mid-years of the Interregnum, Black Kiergo was relegated to the underground, becoming a section of the city's outlaws refuge. While the poor live in shanty-towns, all sorts of criminal activity occur in Black Kiergo, essentially becoming the region's center of the black market.[2] It is well-known that Rajhin was born in the slums, before becoming the Thief God of the Khajiit.[3]
History
[
edit
]
The slums of Black Kiergo date back to the rise in power of the ancient Kingdom of Senchal, sometime in the Merethic Era. As trade gradually flowed through the port-town, a caste system had been developed by the merchants and nobles of the town, dividing them from the lower classes that eventually created Black Kiergo. This district soon catered to thieves and other misfits with no centralized leader like other districts, which had their own clan leaders.[4]
Black Kiergo had been the subject of fires, much like the rest of Senchal during history's plague epidemics, such as the Thrassian Plague in 1E 2260. In all cases, the flames started in the slums and eventually spread throughout the town. When the Knahaten Flu of 2E 560 had arrived into Elsweyr, it started in Black Kiergo, specifically from Sweet Street and the Skooma-addicts. Since then, the flu had spread into the other districts, Dagi's Pride and Squint-Eye and later the heart of Elsweyr.[5] The fires in Black Kiergo had driven the area into the underground, which turned the slums into a place of criminal activity and the deadly arena.[2]
In 2E 582, as the Dragons swarmed the province of Elsweyr, the Order of the New Moon had begun to grow across the Quin'rawl Peninsula, recruiting desperate people in Senchal, especially in the Black Kiergo slums. The Arenamaster, Shirnama acquainted with the order to find new formidable candidates via contestants of the arena.[6] At that point, various factions such as the Red Rooks bandit clan of King's Guard and the Iron Orcs of Craglorn attended these arena fights, albeit for unknown purposes.[7] By 2E 864, the slums of Black Keirgo had re-surfaced in the open.[1]
Gallery
[
edit
]
See Also
[
edit
]
For game-specific information, see the ESO article.
References
[
edit
]
^ a b c Pocket Guide to the Empire, 1st Edition: The Elsweyr Confederacy — Imperial Geographical Society,

2E 864

^ Varieties of Faith: The Khajiit — Brother Mikhael Karkuxor of the Imperial College
^ History of Senchal: An Overview — Sulema, Initiate Scholar of the Pa'alatiin
^ The Eagle and the Cat — Lord Gharesh-ri, Speaker for the Mane
^ Order of the New Moon quest in ESO: Dragonhold