Lore:Ayleid Ruins
The UESPWiki – Your source for The Elder Scrolls since 1995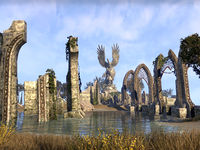 Main article: Elven Ruins
Ayleid ruins are all that remain of the city-states and settlements of the Ayleids. They are a common sight in Cyrodiil[1][2] Valenwood,[2] and High Rock,[2] with some also present in Hammerfell,[2] Elsweyr,[2] and Black Marsh.[2] Most of these ruins still have functioning welkynd and varla stones.
Many Ayleid settlements continue to be inhabited even after the disappearance of the Ayleids. They often serve as lairs for outcasts such as bandits and necromancers, while some, such as the Imperial City and Stormhold, have been renovated and function as modern settlements.
Known Ayleid Ruins
[
edit
]
Valenwood[2]

Grahtwood

Elden Hollow
Laeloria
Ne Salas
Ossuary of Telacar
Reliquary of Stars (Staregole)
The Orrery
Wormroot Depths

Greenshade

Arananga
Carac Dena
Ilmyris
Marbruk Outlaws Refuge
Moonhenge
Pelda Tarn

Malabal Tor

Belarata
Black Vine Ruins
Chancel of Divine Entreaty
Ilayas
Shael

Reaper's March
Translated Names
[
edit
]
Below are the names (and their translated meanings, where available) of Ayleid settlements throughout Tamriel.
Nen Ria - Water (?)
Nenyond Twyll - Graywater Well
Par Molag - "Fire Fist/Grip"[12]
Pelda Tarn - (?) Delve
Relleis Lor - Dark River
Sardavar Leed - (this settlement was formerly called Sard[13])
Sercen - Earth
Silaseli - Shining Halls
Twyllvarlais - Well of Stars [14]
Varsa Baalim

Cava Arpenia - [the] nobility

Veawend Ede - Sea Journey's End[15]
Veyond - (?) Gray
Vindasel - (?) Hall
Welke - (possibly related to "Wel", meaning "child", and "Welkynd")
Wendelbek - Journey of El Bek (?)
Wendir - Journey (?)
References
[
edit
]
^ Breakneck Cave in ESO
^ Eld Angavar loading screen in ESO