Lore:Alcaire
The UESPWiki – Your source for The Elder Scrolls since 1995
This article is about the geographical region. For the political entity, see Alcaire (fiefdom).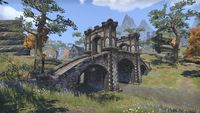 Alcaire is a region in central High Rock, within the larger region of Stormhaven. It borders King's Guard to the west, Eyebright Feld to the north, Wrothgar to the northeast and Menevia to the east.
The region contains the settlements of Alcaire Castle and Koeglin Village, Firebrand Keep, and the Ayleid ruin of Moravagarlis, known to the locals as Bonesnap Ruins. During the time of the Daggerfall Covenant in the middle of the Second Era, the region was ruled by the Duke of Alcaire from Alcaire Castle, and protected by the Knights of the Flame.[1] The name would be used again in the Third Era to refer to a fiefdom in the same area.
The book The Arcturian Heresy claims Hjalti Early-Beard was born within the region, and that Hjalti would go on to become Tiber Septim.[2]
In the Skyrim quest The Ghost of Old Hroldan, the eponymous ghost holds a dialogue with "Hjalti", and makes reference to the time they spent together as students of "the sword masters of Alcaire".
References
[
edit
]
^ The Arcturian Heresy — The Underking, Ysmir Kingmaker