Lore:Alabaster
The UESPWiki – Your source for The Elder Scrolls since 1995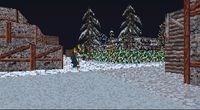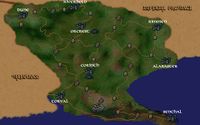 Alabaster is a city in eastern Elsweyr, found inland from the Niben River. It is said that great white walls surround the city, hence the name.[1] A small unnamed town is located outside the city walls, to the west.[2]
History
[
edit
]
In 2E 560, Alabaster became one of the first cities to exhibit symptoms of the Knahaten Flu.[3] During the Three Banners War a few years later, sailors from the city were known to trade in Anvil.[4]
At the time of the Imperial Simulacrum, the city was ruled by King Mojnir and was a rival of Senchal and Rimmen.[1] It was neighbored by several settlements, including Darkarn Place to the west, and Valley Guard to the northwest.[5] Rumors about the Chrysamere began in the city during this time.[UOL 1]
Arena was originally conceived as a fighting game featuring a tournament that took the player to each of Tamriel's cities to challenge different gladiatorial teams. According to a file from that stage of development left behind in the final game, Alabaster's gladiatorial team would have been called "the Nightrunners".[UOL 2]
In the mid-Second Era, the youth of Alabaster purportedly found it fashionable to place their honorifics before their names, rather than after in the typical Khajiiti custom of that time—a practice which seemed to have spread to other Khajiit by the Third Era.[6]
References
[
edit
]
Note: the following references are not from official sources. They are included to provide a rounder background to this article, but may not reflect established lore.