General:Michael Kirkbride
The UESPWiki – Your source for The Elder Scrolls since 1995
Michael Kirkbride (also known by initials MK) is a video game designer, writer, and artist who worked on Redguard,[6] Morrowind,[7] and Oblivion,[8] as well as having smaller uncredited roles for Daggerfall,[9][10] Skyrim,[11][12] and The Elder Scrolls: Online.[13]
The Elder Scrolls

[

edit

]
"For some reason, you can't make a pirate game without deciding how the universe got created."
—Michael Kirkbride
[14]
Kirkbride had a minor role working on textures for Daggerfall.[9][10] He bonded with designer Kurt Kuhlmann, who was hired on the same day that he was, over a shared interest in weird fiction.[14] While pre-production for The Elder Scrolls III began after Daggerfall's release, the scope of the game was determined to be too large for the team to handle at the time, so was put on hold[15] and development efforts were divided into two smaller Elder Scrolls projects in the interim.[16] Kirkbride and Kuhlmann pitched a "pirates-on-mars" game to Todd Howard which ultimately became Redguard,[14] with the trio as writers,[6] while a separate team developed Battlespire.[16] Aside from overseeing all aspects of the game's writing, Kirkbride also produced levels and graphics for the game.[17] During this time, Kirkbride and Kuhlmann wrote A Pocket Guide to the Empire, 1st Edition[18] to be shipped as a physical pamphlet with Redguard,[14] and in doing so largely redesigned the basis of The Elder Scrolls lore.[19] Kirkbride later quipped that he took interest in The Elder Scrolls lore when he "decided its gods made no sense at all."[20]
"[The look of Morrowind] came from Michael Kirkbride, and I would say that it's not just the visual aesthetic; all of the narrative aesthetic of Morrowind also comes from Michael. I might've been the narrative lead, but Michael was the luminary — the man with spectacularly exotic and bad judgment that excited us so much [...] He was absolutely essential. And also crazy as a rat in a drainpipe, which is necessary. Somebody had to be really, really, really crazy, and it's better that your lead designer isn't."
—
Ken Rolston
, Lead Designer of
Morrowind
[14]
When planning The Elder Scrolls III, Kirkbride found the originally planned setting of Summerset Isle uninspiring and proposed to project lead Todd Howard to set the game in Morrowind, and Howard was "immediately hooked"[14]. According to Kirkbride, Morrowind writers had a saying that "anything that was boring was automatically wrong."[21] With planning for Morrowind occurring alongside production for Redguard,[22] Kirkbride was often distracted from his work on Redguard drawing concepts for Morrowind, and during production of that game the walls of Bethesda's offices were covered in his illustrations.[14] As the Art Director,[23] Kirkbride was the dominant influence on Morrowind's aesthetic.[14] In 1999, he hired Matthew Carofano to the art team.[24][25] Aside from his work on concept art and quest design for Morrowind, Kirkbride produced at least 53 in-game books, including the seminal lore texts The Monomyth, Varieties of Faith, and The 36 Lessons of Vivec,[26] which established the deities and mythology of The Elder Scrolls. Having been asked to write 50 skill books, Kirkbride had originally allocated for six of them to cover "Vivec's Bible", but resulted in 36 because he could not stop writing them.[27]
Relocating to California, Kirkbride left Maryland-based Bethesda Softworks in April 2000 and shifted to ZeniMax's e-Nexus Studios,[4] also known as Bethesda West.[28] When Bethesda Softworks had begun production on Oblivion, Kirkbride was contracted to provide more books and supporting writing for the game and its expansion Knights of the Nine.[4] He wrote at least nine texts[26] as well as dialogue for the game's main antagonist Mankar Camoran.[5] According to Ted Peterson, Kirkbride declined to write A Pocket Guide to the Empire, 3rd Edition—to be shipped as a physical booklet with the Collector's Edition—as he disagreed with the creative direction of the game.[29] Kirkbride later reflected that being involved in Oblivion's writing but without the same level of control as he had on previous titles was difficult and he did not play the game for nine years after its release,[30] regarding it as a series low point.[19] Kirkbride was then involved in early plot and design concepts for Skyrim as a consultant[11][31] and wrote for the announcement trailer.[11] Concern among fans that lore written by Kirkbride would be missing from the game prompted Kurt Kuhlmann, Co-Lead Designer of Skyrim, to reassure fans of Kirkbride's influence on the title.[32] After Skyrim's release, Kirkbride expressed his disappointment with the removal of the Nordic religion from the game,[33] but otherwise regarded the game fondly.[34]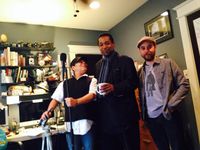 In celebration of Redguard's 15th anniversary in 2013, Kirkbride collaborated with the game's original cast and crew on a project titled Captain Tobias' Sword-Meeting with Cyrus the Restless with Michael Mack reprising his role as hero Cyrus,[35] but while voiceover work has been recorded, the project remains unreleased.[36] In 2014, Kirkbride released the script to C0DA, a metafictional Elder Scrolls graphic novel set on Masser in the Fifth Era.[37] The story of C0DA was written as a conclusion to the overarching story of Morrowind and presented as a potential future of The Elder Scrolls universe. Described as "a story that doesn't want to be told in the main TES franchise",[38] the work also served as a vehicle for Kirkbride's view that labels such as "canon" or "official" are not applicable to The Elder Scrolls lore[39] and stimulated conversations within the community of what canon is and how it should be applied to The Elder Scrolls.[21] In 2017, Kirkbride contributed 36 Lessons of Vivec, Sermon 37 to The Elder Scrolls Online: Morrowind.[13]
Kirkbride is noted for his high level of fan interaction, and has posted in online Elder Scrolls communities consistently since Redguard's development,[5] often answering questions about development and the lore, sharing lore texts that have not yet been seen in-game[40][41] and ideas that had not made it into the final version of a game.[42][43] Out of all The Elder Scrolls writers, Kirkbride has provided the most out-of-game lore texts to the community.[44]
Outside of The Elder Scrolls

[

edit

]
Kirkbride attended the University of Alabama in Huntsville[4] where he studied creative writing, painting, and comparative religion[45] before doing video game work with friends from college[14], stating that he "lucked into games".[45] He joined United Software Artists and worked on their planned MMORPG Roamad, which was later retooled and released as the mainly singleplayer Amulets & Armor.[17] As a freelance illustrator, Kirkbride worked with RPG publishers such as Chaosium and Atlas Games providing his illustrations to several sourcebooks, and contributed artwork to the Tékumel website,[17] even being given a name in the Tsolyáni language by Tékumel's creator M. A. R. Barker.[46] Kirkbride joined Bethesda Softworks in April 1996[4] after he responded to a job advertisement in Next Generation magazine and was hired by art lead Mark Jones.[14] His first credit with Bethesda was SkyNET.[47][48]
Following his work at Bethesda Softworks, Kirkbride joined fellow Elder Scrolls writer Ted Peterson at Savage Entertainment[49][29] and worked for several video game studios after in mainly design roles.[4] Outside of his Elder Scrolls work, he is best known for his time with Telltale Games for which he was the Lead Designer on four titles.[50][51][52][53] Following Telltale's closure, Kirkbride remained the Lead Designer for The Walking Dead: The Final Season to complete the series under Skybound Entertainment.[54][4] After that game's completion, Kirkbride joined Ascendant Studios as their Lead Writer.[4][55]
Influences and style
[
edit
]
Kirkbride emphasises that how a video game looks and feels is more important to its lore than its accompanying prose.[30] Following the method of Ken Rolston, he aims to tell the "dog story" and the "god story",[14] stating "what's it like for the peasant? How does magic seep down into the lives of everyday people? War, famine, things like that. To me, that's equally interesting to warfare between the gods, sometimes even moreso."[30]
Favoring texts which read like artifacts of the world they inhabit, his writing is often dense and makes heavy use of invented terminology which is intended to have allusive rather than definitive purpose. Gene Wolfe, who is known for such a prosaic style, is regarded by Kirkbride as an influence.[14] He pointed to a passing reference to a beverage called "peppered chocolate" in The Book of the New Sun, stating, "That's a perfect example of what I try to do [...] Your eye can just slide right over that, but if you're paying attention, you say, 'wait, what?' That gives you that sense that it's a fantastical world, that it's something unfamiliar to us. Little things like that really add up."[30] Also like Wolfe, Kirkbride makes heavy use of unreliable narrators in his work—on the writing for Morrowind, he stated that writers were purposely contradictory about in-universe information, recalling "we just built this way of working where the only info that would come out of Bethesda about the world had built-in plausible deniability".[14] Kirkbride stated that the best fictional book he has read is Moby-Dick,[56] which is noted for eclectic and flexible use of language, sometimes shared by Kirkbride—like Herman Melville, Kirkbride frequently creates unusual compounds such as "the water-getting girl", "sword-meeting", "storm-death", and "White-Gold Tower". Ted Peterson praised Kirkbride's writing when comparing it to his own "grounded" approach, describing it as "almost prose poetry, very cool but almost incomprehensible".[49]
Kirkbride cited the works of Jorge Luis Borges as a "huge influence".[57] As Borges does in his works, Kirkbride often toys with the idea of truth and reality in fiction, denying the reader a definite understanding of events. The Republic of Hahd in particular is a nod to Tlön, Uqbar, Orbis Tertius,[57] and Kirkbride has also paid homage to Borges by posting online a Morrowind-themed version of Argumentum Ornithologicum.[58] On Morrowind's narrative, Kirkbride stated "a 40 hour narrative whose main character is only ever referenced is almost Nabokovian in aspiration, and prophecies whose truth is determined only by the player is akin to Borges if he only had been born with a USB port in the back of his beloved neck."[5]
Kirkbride recalls that he began worldbuilding at age five in a Montessori classroom using his principal's original Dungeons & Dragons manuals.[59] He credits the work of Aaron Allston, particularly on the Gazetteer series, with inspiring his "need and drive to create The Pocket Guide to the Empire for The Elder Scrolls."[60]
He saw David Lynch's Dune in theaters on its opening day and claims that it influenced all of his writing thereafter,[61] including Morrowind.[14] He has jested that "any discussion of anything in TES should include some reference to Dune".[62] Kirkbride has pointed to Dune's concept of kanly as an inspiration for the Morag Tong,[19] and the Guild of Navigators as an inspiration for Lyg being folded space.[63][64]
Kirkbride regards Glorantha as "the second biggest influence in the structure of TES' mythos".[65] Ken Rolston, who wrote for RuneQuest, stated that Glorantha was a "shared language" between himself, Kirkbride, and Kurt Kuhlmann during writing for Morrowind.[14] Kirkbride noted that Glorantha's Gbaji and Arkat were inspirations on the character of Tiber Septim.[66] Another fantasy world serving as an inspiration is Tékumel, with Kirkbride stating that M. A. R. Barker's "concentration on non-white cultures puts most post-Dunsany fantasists to shame with their airport-safe Anglo-tropes".[46]
Kirkbride is a fan of Star Wars, and his first pitch to Todd Howard for Morrowind was "Mad Max meets Star Wars meets The Dark Crystal".[19] He takes pride in having written for Star Wars: The Force Unleashed,[67][68] has a Star Wars tattoo,[69] and together with Kurt Kuhlmann wrote a fanmade 13-episode television series titled Star Wars: Rebellion in 1999[70][71] (the origin of the name "Titus Mede", later reused for a character in The Elder Scrolls).[72] Video games which influenced Kirkbride's work on Morrowind include Oddworld: Abe's Oddysee and Out of This World.[14]
He has cited Stormbringer's Pan Tangians, as portrayed in the sourcebook Sorcerers of Pan Tang, as providing his "personal inspirations of the Ayleid Hegemony",[73] and the Data Gods of the Numenera supplement Celestial Wisdom as an inspiration on the Hist.[74]Other influences cited by Kirkbride are the works of Gene Wolfe,[30] Michael Moorcock,[75] R. Scott Bakker,[76] Khalil Gibran,[77] David Bowie,[77] Carl Jung,[78] and elements of Hinduism.[79] He studied comparative religion in university[45] and described himself as a "Gnostic heretic", stating this to reflect in his writing.[65]
Video game credits
[
edit
]
| | |
| --- | --- |
| | Indicates The Elder Scrolls titles |
Traditional role-playing game credits
[
edit
]
This list is non-exhaustive and includes only texts which have been confirmed to be written, fully or partially, by Kirkbride.
Gallery
[
edit
]
Redguard concepts

[

edit

]
See also: Redguard:Concept Art
Pocket Guide to the Empire, First Edition illustrations

[

edit

]
Morrowind concepts

[

edit

]
See also: Morrowind:Concept Art
Other illustrations
[
edit
]
External Links
[
edit
]
References
[
edit
]