General:Elder Scrolls Off the Record
The UESPWiki – Your source for The Elder Scrolls since 1995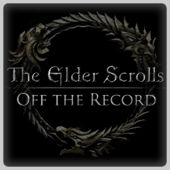 Elder Scrolls Off the Record (ESOTR) is a live podcast created by The Quest Gaming Network (QGN), a gaming community network which includes coverage of a variety of game series, including The Elder Scrolls, via blogs, live streaming, recorded videos, and various social networking sites.
Skyrim Off the Record first aired on November 30, 2011; the name was later changed to encompass discussion of the other games. As news and discussion of Elder Scrolls Online began to dominate the show, it sparked a spin-off in December 2013, Classic Elder Scrolls (CES), which was dedicated to discussing and streaming the older TES games. CES later got its own spin-off for showcasing spin-offs: Classic Mark, Classic Elder Scrolls.

Current cast members include Evarwyn, Rob "Rage Philosophy", Liz "Mistress Lebeau" (aka "the Exploitress"), and Mike "KDRMickey". Previous cast members include author/pro gamer Joe "The Wigit" Wilson, the show's founder and original producer, as well as Dave "DIENforce" Adams, ShankthTank, and Lou "The Loremaster" Olan, as well as many other guests and guest hosts from the community. While Joe had experience as a game developer, the cast are by and large not gaming industry professionals, just self-described "filthy casuals", and ESOTR has generally maintained a light-hearted, informal tone.
The current show, which is replete with memes, call backs, and other shenanigans, typically begins with the cast discussing their gameplay since the last episode, such as whether any challenges or goals were met. This is followed by news and other segments. "The Crafting Table" features discussion of a mod of the week. "The Rage of the Week" features Rob expressing his distress over some issue with the games. The "Community Section" details QGN community events and plans. "This Week in Tamrielic Holidays", naturally, discusses upcoming holidays in Tamriel.

The show began when Evarwyn and Joe were producing The Quest Podcast, but found themselves talking a lot about the newly-released TES V: Skyrim. Evarwyn, realizing they could have a podcast solely dedicated to the game, came up with what would become ESOTR. Joe approved the idea, and three days later, Evarwyn had the initial format ready for a weekly podcast. They brought on Lou as the resident loremaster, Joe became producer, and Evarwyn acted as the show's writer (he has written nearly every episode) and co-producer. They began with gameplay discussion, followed by "The Crafting Table", "The Tamriel Times" (the original news segment, later followed by "The Bannered Mare"), "The Town Square" for community feedback, and "The Elder Scroll", Lou's lore segment. They initially guessed the weekly show would have a run of roughly 10-20 episodes.
Lou had been playing Elder Scrolls games since TES: Arena. Evarwyn had tried TES III: Morrowind upon its release, but didn't enjoy it (at the time). Joe first fell in love with the series with Arena, but he would not realize this until Episode 83, almost two years after the show began. While preparing for their interview with Matt "Gstaff" Grandstaff regarding The Elder Scrolls Anthology, it occurred to Joe that he had played Arena from start to finish when he was a child, but had long ago forgotten its name.
Dave, a Skyrim fan with an MMO background and a distaste for Morrowind, first came on as a "special guest" host in Episode 12, but soon became a permanent fixture thanks to his insights and humorous exhortations (and in spite his poor audio). He would also take the lead if Joe and Evarwyn were both unavailable. These episodes (42, 80, and 109) were always known as "The Best Episode Yet!"
The show also featured periodic emails from TES IV: Oblivion veteran Shank, a self-described "Elder Scrolls purist" with a special love for avoiding combat and a special hatred for Argonians. He eventually made his debut on the show in Episode 45, a little over one year after Skyrim's release. One year later, in November 2013, Joe resigned, and Evarwyn took over as producer for Episode 89. Mid-August of 2014 saw the rest of the cast resign, and the show continued in Episode 121 with Evarwyn, Rob, and Liz.
Rob and Liz were fans of the show who had long chimed in on the live chat or in emails. Liz had appeared on the show sporadically throughout its history. She first came on for Episode 10 (before Dave), and also was on for Shank's debut in Episode 45. She and guest host Fred Woodley featured prominently in Episode 100: The Centennial, which included an assortment of parody songs she performed celebrating the show's many stories and foibles. Rob is a TES fan with a penchant for incisive ranting and a distaste for Altmer.
They were joined in Episode 134 by Mike "KDRMickey", a longstanding part of the QGN community. He's also an acclaimed painter noted for his depictions of various TES scenes and characters. Mike first became a host for CES as part of the August 2014 shake-up, and made his first appearance on ESOTR in Episode 122.
Notable Events
[
edit
]
| Episode | Significance |
| --- | --- |
| ESOTR 10 | Mistress Lebeau first appears on the show as a guest. |
| ESOTR 12 | First episode with Dave. Also, the crew discover Skyrim's Project P.E.W. mod. |
| ESOTR 20 | Malukah gives a live performance. |
| ESOTR 32 | Malukah gives another live performance. |
| ESOTR 42 | The Best Episode Yet! |
| ESOTR Special Episode | At the Elder Scrolls Online Press Event in October 2012, the hosts interview Game Director Matt Firor, Creative Director Paul Sage, and Lead Gameplay Designer Nick Konkle. |
| ESOTR 45 | First episode with Shank. Liz also makes an appearance |
| ESOTR 52 | Interview with Bethesda Global Community Lead Matt Grandstaff regarding announcement of the Dragonborn add-on for Skyrim. |
| ESOTR 61 | At PAX East in March 2013, the hosts get exclusive interviews with Nick "The Konk" Konkle, Paul Sage, Brian Wheeler, and Pete Hines. |
| ESOTR 80 | The Best Episode Yet!, Part Deux |
| ESOTR 81 | Another exclusive interview with Paul Sage. |
| ESOTR 83 | Matt Grandstaff returns to the answer questions about The Elder Scrolls Anthology. |
| ESO Alliance Episode 1 | Producers of QGN, Tamriel Foundry, and Shoddycast discuss ESO news with Force of Force Strategy Gaming. |
| ESOTR 89 | Joe resigns. |
| ESOTR 91 | First appearance of Road, The Naked Nord, of TESOCast. |
| ESO Alliance Episode 2 | Producers of QGN, Tamriel Foundry, and Shoddycast have a round-table discussion with Nick Konkle. |
| ESOTR 94 | First appearance of QGN Community Administrator Moricu. |
| ESO Alliance Episode 3 | Producers of QGN, Tamriel Foundry, and Shoddycast have a round-table discussion with Lou. |
| ESOTR 100 | The Centennial. |
| ESO Alliance Episode 4 | Producers of QGN, Tamriel Foundry, and Shoddycast have a round-table discussion with Lady Nerevar. |
| ESOTR 107 | Another exclusive interview with Paul Sage. |
| ESOTR 109 | The Best Episode Yet! III |
| ESOTR 118 | Another exclusive interview with Paul Sage. |
| ESOTR 120 | Nick Konkle discusses the major headlines from Quakecon 2014. |
| ESOTR 121 | Dave, Lou, and Shank leave the show. Liz and Rob become cast members. |
| ESOTR 122 | Mike's first appearance on the show. The cast interview popular add-on creator Wykkyd. |
| ESOTR 129 | Interview with Morriel and Night's Knight, hosts of ESO-RP. |
| ESOTR 134 | Mike joins the cast. |
| ESOTR 139 | Exclusive interview with Paul Sage and Lead User Experience Designer Christ Strasz. |
| ESOTR 144 | First appearance of Mark from Classic Elder Scrolls. |
Classic Elder Scrolls
[
edit
]
Originally titled "Classic Elder Scrolls Night", CES focuses on gameplay and discussion of TES games from TES: Arena up to and including TESV: Skyrim (on the rationale that Skyrim was an instant classic). Current cast members include Evarwyn, Mike "KDRMickey", and Mark Carnagan.
The initial format involved Evarwyn streaming an older game of his choice while chatting about it and other matters with a rotating cast of QGN regulars and other guests, particularly Shank, John Supa, and Moricu. It began in August 2013, but after nine episodes, the show changed to a somewhat more planned podcast format in late December. In April 2014, the show changed from weekly to biweekly. The cast changed substantially in August 2014 as a result of larger changes in the QGN team. Former segments include John's Mod of the Week, and Mori's Random Lore Book.
While ESOTR tends to focus on current events related to TES, particularly ESO, CES features discussion comparing and critiquing the finer aspects of the older games. Episode 4 features discussion about technological advancements from game to game, while Episode 8 compares the appearances of the playable races across several games. Episode 9 illustrates the enormous size of TESII: Daggerfall and how it dwarfs the maps of subsequent games, and weighs of the pros and cons of procedurally generated landscapes. A wide variety of episodes discuss older gameplay mechanics and whether they might be incorporated in some way into future games.
While ESO is generally a banned topic on CES, occasional exceptions have been allowed in order to provide side-by-side comparisons with older games. Episode 10, for example, compared the Rift and Eastmarch across games.
External Links
[
edit
]