Daggerfall:Nulfaga
The UESPWiki – Your source for The Elder Scrolls since 1995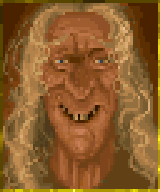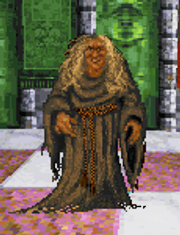 Nulfaga is the mother of the late King Lysandus of Daggerfall, and grandmother of King Gothryd. As with Mynisera, her official title is Dowager Queen of Daggerfall.
Nulfaga is a renowned mystic and necromancer. As the kingdom prepared for the War of Betony, she foresaw her son's death though he refused to heed her warning. After Lysandus was murdered, Nulfaga descended into madness and retreated to Shedungent, her castle in the Wrothgarian Mountains.
Nulfaga is also responsible for conjuring the storm which left the Emperor's agent shipwrecked in Privateer's Hold, after an unknown figure led her to believe Lysandus' murderer was aboard the vessel.
Related Quests
[
edit
]
In keeping with her role as a sorceress, Nulfaga has a familiar, a small dragon named Skakmat (who does not appear in the game).