Daggerfall:Castle Llugwych
The UESPWiki – Your source for The Elder Scrolls since 1995
This page or parts of this page were previously transcluded from lore pages per this discussion.
This page should be checked for potential unrelated lore and other information. Please remove this banner when the page has been cleaned up.
To meet our site's higher standard of quality, this article or section may require cleanup. It currently falls under the jurisdiction of the Daggerfall Redesign Project, but anyone is welcome to improve upon the quality of this page.
To leave a message about the cleanup for this article, please add it to this article's talk page.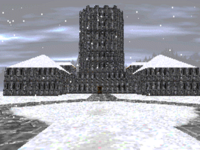 Castle Llugwych is a large fortress in the central part of Ykalon in the Iliac Bay region. It serves as the headquarters of the Blades in the region. Because of its sensitive function, the castle is well-guarded. See the lore article here.
Dungeon Layout
[
edit
]
Using in-game denotation for dungeon-modules:

          B0000001          
B0000002  W0000009 @S0000120
B0000003  N0000023  B0000009
B0000004  N0000045  S0000121
          B0000005  B0000006

Dungeon-Modules: 12
Quest Locations:  9

Related Quests
[
edit
]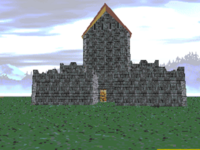 Due to a bug, this location re-uses the exterior model of Direnni Tower instead of the correct unique model. This bug is fixed in HackFall, a third-party patch.