Arena:Ebonheart
The UESPWiki – Your source for The Elder Scrolls since 1995
"You enter Ebonheart, also known as the Black City. To the north you can see the red-orange glow of Dagoth Ur, the firecone on the Black Isle. This city's ruler has a reputation of being extremely ruthless..."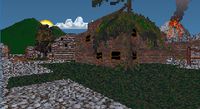 Ebonheart is a city-state located in central Morrowind. The ruler is King Casik. Its rivals are Blacklight, Firewatch, Kragenmoor, and Mournhold.
Locations
[
edit
]
Inns

Black Noose
Crimson Cutlass
Devil's Mug
Flying Cutlass
Gold Sailor's
Gold Serpent
Gold Treasure
Howling Crow's Nest
King's Galley
Lucky Mug
Queen's Ship
Red Gull
Restless Albatross
Thirsty Gull
Unfortunate Cup

Temples

Brotherhood of Charity
Conclave of Faith
Conclave of Mercy
Order of the Golden Tomb

Stores

<random>'s Finest Gear Store
Bargain Armaments
Bargain Equipment Store
Elite Gear Store
Rare Merchandise
Rare Sundries
<random>'s General Gear Store
The Adventurer's Provisions
The Adventurer's Weaponry Store
The Basic Supply Store
The Emperor's Weaponry Store
The Wyrm's Tool Store
<random>'s Weaponry Store
Used Equipment Store
Vintage Armaments
<random>'s Tool Store
Ebonheart is a possible starting location for Dark Elves.