User talk:Karnilmo
The UESPWiki – Your source for The Elder Scrolls since 1995
Welcome!
[
edit
]
Hiya Karnilmo! Welcome to UESPWiki. It's great when we get new members. Just thought I'd send you a welcome with some helpful info. Check out the following links:
If you would like to spice up your userpage, take a look at the Userboxes page: a near complete list of userboxes, including a guide to making your own.
When you're editing, it's always a good idea to leave edit summaries to explain the changes you have made to a particular page, and remember to sign your talk page posts with four tildes ~~~~ (do not sign edits to articles). Also, the "show preview" button is a great way to view the changes you've made so far without actually saving the page (patrollers really appreciate it!).
Feel free to practice editing in the sandbox or discuss the games in the forums. If you need any help, don't hesitate to contact one of our mentors. Have fun! -ABCface◥ 13:48, 31 August 2012 (UTC)
Thank you for welcoming me in this very place! I promise that I will study the rules and do my best to edit and help, making the right thing which is specified on the rules. Karnilmo 22:53, 31 August 2012 (UTC)
Userbox Template
[
edit
]
I need an opinion about this "template" that I made (I did not post it inside the user template "folder" because I do not know if it is valid or not):
Is it a valid one? Karnilmo 23:14, 31 August 2012 (UTC)
You would need to post it on the talk page of whichever userbox subsection you want it on. You can use it on your page anyhow, but the talk page for the userboxes will have more attention. SilencerSpeak 23:25, 31 August 2012 (UTC)

Thanks for the advice. I posted it in the discussion page of Userboxes as instructed. Karnilmo 02:26, 1 September 2012 (UTC)
Invitation to join a translating team.
[
edit
]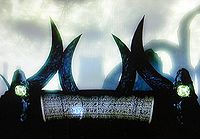 Dear Karnilmo,
You are invited to join a team that will be attempting to translate the unknown language on the Word Wall in the 6th Chapter of the Black Book Waking Dreams, the Word Wall that gives the third word ( D3V ) of the Dragon Aspect shout. There are strange, moving words behind the Dragon Language text on the Wall, written in an unrecognisable language. The Dragon Language part of the Word Wall has already been translated. It is the moving words in the unrecognisable language that this project hopes to translate.
This project will be happening in my sandbox, which is open to collaboration by invited team members. The talk page of the sandbox is open to other contributors as well. I hope to see you get involved in the project. I have hand-picked you because you may have previously been involved in Elder Scrolls language translations in the past on the wiki, particularly if you worked on the Magic Script Alphabet or the Elder Alphabet pages.

Kind regards,
Daric Gaersmith