UESPWiki:Survey
The UESPWiki – Your source for The Elder Scrolls since 1995
The UESP is collecting user feedback in its user survey to determine how best to improve our site and services in the future. All survey respondents that supply an e-mail are entered into a random draw for a variety of prizes listed below.
The survey is now over and many thanks to all who participated. Prizes recipients have been chosen and the e-mails sent. Note that you have 2 weeks to claim your prize before it will be given to another randomly drawn user. The Survey Results are also available for viewing and discussion.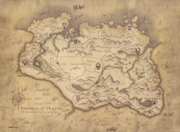 The following prizes will be awarded by random drawing of all survey respondents with a valid e-mail address:
1 Grand Prize — TES V: Skyrim collector's edition (PC, other platforms depending on availability) with a map signed by the developers
3 Second Place Prizes — TES V: Skyrim
5 Third Place Prizes — Dawnguard expansion for TES V: Skyrim
10 Runners Up — Dragonborn Figurines
20 More Runners Up — Hearthfire expansion for TES V: Skyrim
Survey/Contest Rules
[
edit
]
The contest is open to all users, editors, and admins of the UESP so long as it is not prohibited by local laws.
The survey will be open the entire month of November 2012.
Completing the survey with a valid e-mail address will qualify the submitter for one entry in the random draw. Completing the survey more than once is not permitted.
E-mail addresses will only be used for the purpose of the random draw prize notification.
Prizes will be awarded by random draw of valid e-mail addresses from submitted surveys.
Winners can be disqualified if there is sufficient evidence of ballot stuffing (performing the survey more than once).
Prize substitution of an equal or lower value may be possible if arranged between the winner and UESP.
Survey answers and e-mail addresses will be anonymous (survey answers will not affect the chances of winning).