UESPWiki:Featured Images
The UESPWiki – Your source for The Elder Scrolls since 1995

Featured images follow the same nomination process as for Featured Articles, but as they appear in a different section of the main page, a separate series of votes is held to decide which images meet the required standard.
For an image to be eligible for Featured status, it must be used in a UESP article. This is to prevent specially-taken beauty shots from stealing the limelight.
A gallery of older Featured Images can be found here. Similarly, the archives of previous nominations can be found here. Note that not all failed nominations are included.
Featured Image Process
[
edit
]
Nomination
[
edit
]
Any registered member can nominate any image at any time. Nominated images should be of high quality and meet the site's image standards.
To nominate an image, list it on the bottom of this page with a three-tier heading, (===Example===), and briefly explain why you think the image should be given featured status.
Example:
After an image has been nominated, any registered member can vote to support or oppose each nomination. Each member can only vote once for a given image, but a member may change his/her vote by striking out the original vote and replacing it with the revised vote.
To vote on an image, state whether you support or oppose the image for featured image status. A vote should be in bold, and all votes must be signed. For example:
* '''Support''': <Comment> --~~~~ or
* '''Oppose''': <Comment> --~~~~
Commenting with your vote is optional, but if you oppose a nomination, please state how the image must be improved to get your support for featured status.
If you are not yet ready to vote but would still like to add your thoughts, you may use:
* '''Comment''': <Comment> --~~~~ or
* '''Question''': <Question> --~~~~
And fill in your concerns or questions.
Decisions
[
edit
]
UESP Administrators will periodically make decisions on image nominations. Decisions will only be made if:
The image has been nominated for more than seven days.
Five or more votes have been placed.
Nominations not meeting these criteria will be left open until a decision can be reached.
Images whose nominations pass will receive featured image status on the front page for two weeks (which may be extended up to one month if there is a shortage of images), and receive a small bronze star (

) on the top right corner. If an image achieves featured status before the present featured image's time expires, it must wait its turn.
Current Featured Image
[
edit
]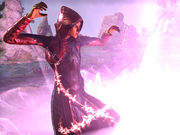 Nominations and Votes

[

edit

]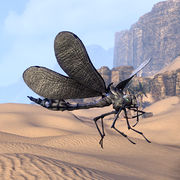 A beautiful HD shot of a rather small creature in ESO. It's actually a Crown Crate-exclusive pet collectible, so it's difficult enough to get an image of without actually owning it. Certainly illustrates the step up in model quality compared to the first appearance of these creatures!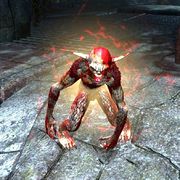 This is a very rare small creature that occasionally spawns in the depths of Imperial City (it is an open PvP zone, for those of you who do not play ESO). The image is sharp and I like the red glow surrounding the scamp. It looks evil! :D Lastly, I also think the thumbnail looks great, so this is definitely an image worthy of FI status in my eyes.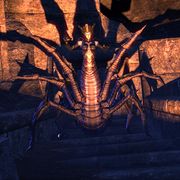 Really like the lighting on this picture, especially the shadows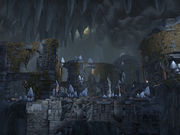 I really like how this picture emphasizes the vastness of the cavern that Fang Lair is located in and the details of the Dwemer architecture. The bright mushrooms growing among the ruins and the stalactites at the top add finishing touches which results in a really interesting image.