Tes3Mod:Tamriel Rebuilt/Map 2
The UESPWiki – Your source for The Elder Scrolls since 1995
This article has been proposed for deletion because of the following concern:
TR now not use Map system. If possible, all links to this article should be redicted to main TR article
If you can address this concern by improving the article, please edit this page and do so. You may remove this notice if you improve this article or object to this deletion for any reason. To avoid confusion, please explain why you contest the deletion on your edit summary and on this page's talk page.
Administrators, don't forget to check the page history (last edit), what links here, and the abuse filter log before deletion. This page was last modified on 2017/10/12.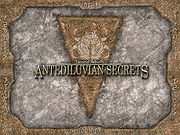 Antediluvian Secrets is the second map released by the Tamriel Rebuilt team. It covers the area between Telvannis to the north and Sacred East to the south and west.
The first public version (v1.0) was released on November 30, 2008. In this version quests were not implemented. An updated version, which included all miscellaneous quests and some faction quests, was released on June 6, 2012. Some of the important landmarks included are the legendary Dwemer ruin of Kemel-Ze, the Telvanni and Imperial settlement of Helnim, as well as the Telvanni settlements of Marog, Alt Bosara, Tel Muthada, and Tel Mothrivra.