Tes3Mod:Tamriel Rebuilt/Archtumz
The UESPWiki – Your source for The Elder Scrolls since 1995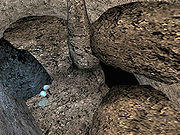 Archtumz is a recently discovered small Dwemer ruin located within the Palisnabat glass mine.
The ruin has been discovered only recently, so some of the ruin may still be present in its original form. A new Dwemer ruin in this part of Morrowind is rare, so the Mainland Mages Guild has an interest in it, as well as the locals. You can start a quest in the nearby cave settlement of Ashamul which requires you to visit this ruin.
The only person present in the ruin is Jonas Artorius. He isn't hostile and can be found in the tower. The ruin has been discovered only recently, and that is why a lot of the Dwemer artifacts are still present. You can find dwarven weapons, Dwemer armor, books and other artifacts in the ruin, but they are all owned by Jonas, so taking them is considered stealing.
Related Quests
[
edit
]
The Dwemer Staff: Recently a dwemer ruin was discovered close to Ashamul and the cave-dwellers want a piece of its treasures.
To enter the ruin you have to fall down a shaft and on the return you have to levitate through it. It may be wise to bring along a levitation potion, although there are multiple present in the ruin. Also a slowfall spell/potion/scroll and a transportation spell (such as Almsivi intervention) may be useful.
The guard in the Palisnabat glass mine will stop you when you try to go to the ruin, so you have to sneak around him.