Skyrim:Yellow Mountain Flower
The UESPWiki – Your source for The Elder Scrolls since 1995
Yellow Mountain Flower


xx

002a78

Added by
Dawnguard
2
0.1
Alchemy Effects
1st
 Resist Poison
2nd
 Fortify Restoration (1.25×)
3rd
 Fortify Health
4th
 Damage Stamina Regen
Sources
Merchant Avail.
None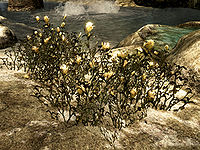 Yellow Mountain Flower is harvested from the rare yellow-flowered variety of mountain flower. Other varieties of mountain flower yield blue mountain flowers, purple mountain flowers, and red mountain flowers, but the four flowers have different alchemical properties.
Combinations
[
edit
]
2 Effects
[
edit
]
1 Effect
[
edit
]
| Desired Effect | Combine with: |
| --- | --- |
|  Resist Poison | Beehive Husk (0.5×), Charred Skeever Hide, Falmer Ear, Garlic, Grass Pod, Mudcrab Chitin, Slaughterfish Egg, Thistle Branch (0.75×), Troll Fat, Wild Grass PodCC |
|  Fortify Restoration | Abecean Longfin, Cyrodilic Spadetail, Salt Pile, Small Antlers, Small Pearl |
|  Fortify Health | Bear Claws, Blue Mountain Flower, Boar TuskDB (5.9×), Glowing Mushroom, Hanging Moss |
|  Damage Stamina Regen | Creep Cluster, Daedra Heart, Frost Mirriam, Histcarp, Juniper Berries, Large Antlers, Silverside Perch, Skeever Tail |
Ingredients
[
edit
]
3 guaranteed samples can be found in the following location:
29 yellow mountain flower plants (or 57 with Special Edition) can be found in 2 different locations:
(HF) Unlike the other three types of mountain flowers, the yellow mountain flower cannot be planted at player-built homes.