Skyrim:Vampire Dust
The UESPWiki – Your source for The Elder Scrolls since 1995
Vampire Dust
00

03ad76

25
0.2
Alchemy Effects
1st
 Invisibility
2nd
 Restore Magicka
3rd
 Regenerate Health
4th
 Cure Disease
Sources
# Samples
30
Creature
Vampires
Merchant Avail.
Rare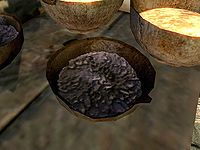 Vampire Dust is an alchemical ingredient dropped by vampires.
Combinations
[
edit
]
2 Effects
[
edit
]
1 Effect
[
edit
]
| Desired Effect | Combine with: |
| --- | --- |
|  Invisibility | Ash Creep ClusterDB, Chaurus Eggs, Crimson Nirnroot, Ice Wraith Teeth, Nirnroot |
|  Restore Magicka | Briar Heart, Creep Cluster, Dwarven Oil, Ectoplasm, Elves Ear, Fire Salts, Frost Salts, Giant Lichen, Grass Pod, Human Flesh, Moon Sugar, Mora Tapinella, Pearl, Red Mountain Flower, Steel-Blue EntolomaCC, Taproot, White Cap, Wild Grass PodCC |
|  Regenerate Health | Alocasia FruitCC, AmbrosiaCC, Emperor Parasol MossDB, Garlic, GleamblossomDG, Gnarl BarkCC, Juniper Berries, Minotaur HornCC, Namira's Rot, Nordic Barnacle, Ogre's TeethCC, Void EssenceCC |
|  Cure Disease | Charred Skeever Hide (0.36×), Felsaad Tern FeathersDB, Hawk Feathers (0.36×), Mudcrab Chitin |
Ingredients
[
edit
]
30 guaranteed samples can be found in 22 different locations. Locations with multiple samples are:
It is categorized as a rare ingredient, meaning that most apothecary merchants have a 21% chance of carrying 1-4 samples. In addition, it may be randomly found only in rare-type apothecary's satchels.
Up to 3 samples at 1.7% chance each or 1 sample at 2.3% chance: carried by Silver Hand members.
Creatures
[
edit
]
Vampire dust is dropped by all vampires, including Ancient Vampires, Blooded Vampires, Master Vampires, Vampire Fledglings, Vampire Mistwalkers, Vampire Nightstalkers, Volkihar Vampires, Volkihar Master Vampires, as well as named vampires such as Alva and Laelette the Vampire.
Related Quests
[
edit
]