Skyrim:Skytemple Ruins
The UESPWiki – Your source for The Elder Scrolls since 1995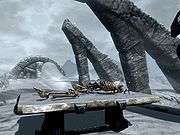 Skytemple Ruins is a hilltop sparsely covered with ruins directly north of the College of Winterhold.
Skytemple Ruins
[
edit
]
The sparse ruins are situated at the top of a large glacial mound surrounded by water. They are guarded by two archer skeletons and three melee skeletons outside, and contain one altar overlooking the sea to the west, with another dead skeleton laying atop of it along with a leveled poison.
To the east, there is a small enclosed burial chamber through a novice-locked wooden door with an apprentice-locked boss level chest, guarded by a leveled draugr which is slumbering in an upright sarcophagus opposite the door you enter through. A copy of the Illusion skill book Before the Ages of Man along with two potions—one a leveled regeneration potion and the other a leveled lasting potency potion—can be found next to the chest.