Skyrim:Silverside Perch
The UESPWiki – Your source for The Elder Scrolls since 1995
Silverside Perch
00

106e1c

15
0.25
Alchemy Effects
1st
 Restore Stamina
2nd
 Damage Stamina Regen
3rd
 Ravage Health
4th
 Resist Frost
Sources
# Samples
3
Creature
Silverside Perch
Merchant Avail.
Common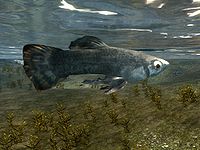 Silverside Perch are fish that can be caught in ponds, lakes, and other bodies of water.
Combinations
[
edit
]
2 Effects
[
edit
]
1 Effect
[
edit
]
| Desired Effect | Combine with: |
| --- | --- |
|  Restore Stamina | Bear Claws (0.8×), Bee, Charred Skeever Hide, Honeycomb, Mudcrab Chitin, Netch JellyDB (2.0×), Orange Dartwing, Pearl, Pine Thrush Egg, Powdered Mammoth Tusk, Sabre Cat Tooth, Salmon RoeHF (0.4×), Torchbug Thorax, Wisp Wrappings |
|  Damage Stamina Regen | Creep Cluster, Daedra Heart, Giant's Toe, Juniper Berries, Wheat, Yellow Mountain FlowerDG |
|  Ravage Health | Cyrodilic Spadetail, Giant Lichen, Jazbay Grapes, ScathecrawDB |
|  Resist Frost | Frost Salts, Moon Sugar, Slaughterfish Scales, Snowberries, Steel-Blue EntolomaCC, Steel-Blue EntolomaCC, Thistle Branch |
Ingredients
[
edit
]
3 guaranteed samples can be found in 3 different locations:
It is categorized as a common ingredient, meaning that all apothecary merchants have a 36% chance of carrying 1-5 samples. In addition, it may be randomly found in some barrels and in apothecary's satchels. Other possible locations for already-harvested samples include:
Fish barrels have a 25% chance of containing silverside perch.
Creatures
[
edit
]
Fish appear at fish spawning sites. Each spawning site generates up to three fish, which are randomly selected from various types of fish. In ponds, perch have a 20% chance of appearing; in deeper water, perch have a 14% chance of appearing. There are 691 spawning sites in 128 different locations. Locations with the greatest numbers are: