Skyrim:Salmon Roe
The UESPWiki – Your source for The Elder Scrolls since 1995

Salmon Roe


xx

003545

Added by
Hearthfire
5
0.2
Alchemy Effects
1st
 Restore Stamina (0.4×)
2nd
 Waterbreathing (15.4×)
3rd
 Fortify Magicka (12.5×, 1.05×)
4th
 Regenerate Magicka
Sources
# Samples
3
Creature
Salmon
Merchant Avail.
None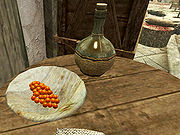 Salmon Roe is an ingredient that can be harvested from jumping salmon in streams (non-jumping and dead salmon do not carry any).
Combinations
[
edit
]
3 Effects
[
edit
]
2 Effects
[
edit
]
1 Effect
[
edit
]
| Desired Effect | Combine with: |
| --- | --- |
|  Restore Stamina | Bear Claws (0.8×), Bee, Charred Skeever Hide, Eye of Sabre Cat, Hawk Beak, Honeycomb, Large Antlers, Mudcrab Chitin, Netch JellyDB (2.0×), Orange Dartwing, Pearl, Pine Thrush Egg, Powdered Mammoth Tusk, Purple Mountain Flower, Sabre Cat Tooth, Silverside Perch, Small Pearl, Torchbug Thorax, Wisp Wrappings |
|  Waterbreathing | Chicken's Egg, Hawk's EggHF, Nordic Barnacle |
|  Fortify Magicka | Briar Heart, Ectoplasm, Emperor Parasol MossDB, Red Mountain Flower, Tundra Cotton, Void Salts |
|  Regenerate Magicka | Dwarven Oil, Fire Salts, Garlic, Moon Sugar, Salt Pile, Taproot |
Ingredients
[
edit
]
1 guaranteed sample can be found in up to 3 locations.
Sources
[
edit
]
Salmon can be found in almost every flowing body of water. Locations with guaranteed jumping salmon are:
Two unique dead salmon yield roe when harvested. Their location is:
Salmon that swim in shallow water, such as along the coast of the Sea of Ghosts between Dawnstar and Winterhold, can yield salmon roe when killed.
Roe can be harvested after killing salmon with the Unrelenting Force shout. This is especially easy at the fish hatchery.