Skyrim:Moldering Ruins
The UESPWiki – Your source for The Elder Scrolls since 1995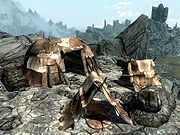 Moldering Ruins is a small camp and concealed cave overrun with vampires and their minions.
The place consists of a small camp above ground and a cave underground.
Related Quests
[
edit
]
Note: This location is one of many potential targets for one or more of the radiant quests found on this page.
Walkthrough
[
edit
]
Exterior
[
edit
]
The camp consists of two small tents (each with a bedroll), a campfire, and one large tent. Several enemies will be around the camp, either death hounds and/or thralls. Inside the large tent there are several random items on a table, including a poison, a potion, some arrows and a bow. Underneath the table is an iron dagger and an unlocked chest. Against the rear of the tent are several crates and barrels, a couple of food sacks and a coffin, with a trapdoor at the southern end of the tent. It leads down into the cave section of Moldering Ruins.
Moldering Ruins
[
edit
]
Upon using the trapdoor you enter into a small circular room with a tunnel in front of you descending a flight of stairs to the south. There are five hanging mosses growing in this first room. At the bottom of the stairs you enter a badly damaged room with rubble all around. A vampire's thrall and a leveled vampire boss will attack as soon as you are detected.
There is a stone table on your left in an alcove against the east wall with two draugr, a salt pile, a skeever tail and a burial urn on top, and a second burial urn underneath. There are a couple of empty coffins, a few more hanging mosses and several opened sarcophagi along both the east and west side walls; some of the draugr may get raised during the fight. There are a couple of large urns along the east wall and halfway along the west wall is a set of shelves holding a bowl of troll fat, a salt pile, and a burial urn. There is another burial urn and partially buried dead draugr at the rear of the room against the south wall, on a ledge above the floor that can be reached by following either of the side walls and then climbing the rubble until you reach the end. Stairs descend on either side of a large carved piece of stone to a lower level with a bedroll on the left-hand side and further to the rear on the right-hand side over a gap is a barrel containing ingredients and a couple of food sacks along with a few unusable barrels. At the very bottom is a campfire in a brazier with a cooking pot balanced on the edge. To the south of the fire is a partially buried unlocked chest between a partially buried dead draugr and another large urn.