Skyrim:Crimson Nirnroot
The UESPWiki – Your source for The Elder Scrolls since 1995
Crimson Nirnroot
00

0b701a

10
0.2
Alchemy Effects
1st
 Damage Health (3×)
2nd
 Damage Stamina (3×)
3rd
 Invisibility
4th
 Resist Magic
Sources
# Samples
0
Plant
Crimson Nirnroot
# Plants
44
Merchant Avail.
None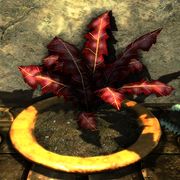 Crimson Nirnroot is a special variant of nirnroot that can be found exclusively in Blackreach. It has the same alchemical properties as normal nirnroot (other than details of the two damage effects). Similar to regular nirnroot, the crimson variety makes a humming sound that lets you know when a plant is nearby.
Aside from the unique jarrin root, crimson nirnroot creates the largest magnitude damage health poisons in the game; see the effect page for full details. It also makes the largest magnitude damage stamina poisons in the game.
Ingredients
[
edit
]
Already-harvested samples of crimson nirnroot are not available. There are none sitting out on tables or shelves, and they cannot be bought from merchants (even with the Merchant perk) or found in random loot.
44 crimson nirnroot plants are found inside Blackreach:
Related Quests
[
edit
]
Crimson nirnroot and regular nirnroot are not affected by the Alchemy perk Green Thumb, and therefore even with the perk, you still only collect a single sample from each plant.
Combining Nirnroot and Crimson Nirnroot will unlock all ingredient effects for both plants.