Skyrim:Creep Cluster
The UESPWiki – Your source for The Elder Scrolls since 1995
Creep Cluster
00

0b2183

1
0.2
Alchemy Effects
1st
 Restore Magicka
2nd
 Damage Stamina Regen
3rd
 Fortify Carry Weight
4th
 Weakness to Magic
Sources
# Samples
25
Plant
Creep Cluster
# Plants
245
Garden HF
5
Merchant Avail.
Uncommon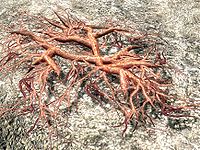 Creep Cluster is a mass of strange orange-brown roots found growing over rocks in the sulfur region in Eastmarch.
Combinations
[
edit
]
2 Effects
[
edit
]
1 Effect
[
edit
]
| Desired Effect | Combine with: |
| --- | --- |
|  Restore Magicka | Briar Heart, Ectoplasm, Elves Ear, Fire Salts, Frost Salts, Giant Lichen, Grass Pod, Human Flesh, Moon Sugar, Mora Tapinella, Pearl, Red Mountain Flower, Vampire Dust, White Cap, Wild Grass PodCC |
|  Damage Stamina Regen | Daedra Heart, Frost Mirriam, Histcarp, Juniper Berries, Large Antlers, Silverside Perch, Skeever Tail, Wheat, Yellow Mountain FlowerDG |
|  Fortify Carry Weight | Hawk Beak, Netch JellyDB, Poison BloomDG, River Betty, Trama RootDB, Wisp Wrappings |
|  Weakness to Magic | Jazbay Grapes, Rock Warbler Egg, Salt Pile, Torchbug Thorax |
Ingredients
[
edit
]
25 guaranteed samples can be found in 17 different locations. Locations with multiple samples are:
It is categorized as an uncommon ingredient, meaning that all apothecary merchants have a 15% chance of carrying 1-5 samples. In addition, it may be randomly found in uncommon- and rare-type apothecary's satchels.
There are 245 Creep Cluster plants found in 16 different locations. Locations with the greatest numbers are: