Skyrim:Cicero's Clothes
The UESPWiki – Your source for The Elder Scrolls since 1995
Unique Item: Cicero's Clothes

(

00

06492c

, 00

0cee6e

)



Type
Clothes
Editor ID
DBClothesJesterCicero
DBClothesJester
Statistics
 Weight
1
 Value
1946/1163 (Jester)
Enchantment

Prices are 20/12% (Jester) better, and damage with One-Handed weapons is 20/12% (Jester) better: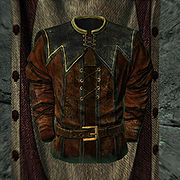 Cicero's Clothes is the clothing worn by their eponymous owner, Cicero. This clothing is a part of a set that also include Cicero's boots, gloves, and hat. As Cicero sees himself as a clown, his clothing's outward appearance reflect this. The outfit is primarily red, with vertical black stripes and golden lines separating the darker collar from the rest of the outfit. There are a number of patches throughout the article of clothing, likely gained throughout Cicero's travels across Tamriel. The clothing has been enchanted to fortify bartering ability as well as fortify one-handed ability by twenty points each, making it so that the wearer can get a better deal from merchants, or have an easier time stabbing them if the mood strikes.
Cicero's Clothes can be obtained during The Cure for Madness. If Cicero is slain during this quest, his equipment set can be freely retrieved from his corpse. Another version of this item, the more generic Jester's Clothes, can easily be acquired during the same quest. While entering the Dawnstar Sanctuary, the full set of Jester's equipment can be found upon a table right after entering the sanctuary. However, the Jester's Clothes enchantment is of a lower value, only fortifying barter and one-handed by twelve points instead of twenty. Additionally, the Jester's Clothes is worth several hundred fewer gold pieces.
Related Quests
[
edit
]