Skyrim:Chaurus Eggs
The UESPWiki – Your source for The Elder Scrolls since 1995
Chaurus Eggs
00

03ad56

10
0.2
Alchemy Effects
1st
 Weakness to Poison
2nd
 Fortify Stamina
3rd
 Damage Magicka
4th
 Invisibility
Sources
# Samples
147
Plant
Egg Sacs
# Plants
1593
Creature
Chaurus
Found
Falmer Hives
Merchant Avail.
Uncommon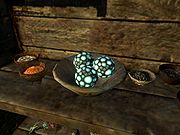 Chaurus Eggs can be harvested from chaurus egg sacs, which can be found in high numbers in all Falmer hives. Chaurus, chaurus reapers, chaurus huntersDG, and chaurus hunter fledglingsDG also have a chance of dropping chaurus eggs. The eggs and sacs emit a pale blue bioluminescence making them easy to spot even in the darkness of caves.
Ingredients
[
edit
]
147 guaranteed samples can be found in 37 different locations. Locations with the greatest numbers are:
It is categorized as an uncommon ingredient, meaning that all apothecary merchants have a 15% chance of carrying 1-5 samples. In addition, it may be randomly found in uncommon- and rare-type apothecary's satchels.
Sources
[
edit
]
Chaurus, chaurus reapers, chaurus huntersDG, and chaurus hunter fledglingsDG have a 25% chance of dropping chaurus eggs, in addition to chaurus chitin and minor loot. Egg sacs, however, are the most common source of chaurus eggs, with 1593 egg sacs found in 21 different locations. Locations with the greatest numbers are: