Skyrim:Bee
The UESPWiki – Your source for The Elder Scrolls since 1995
Bee
00

0a9195

3
0.1
Alchemy Effects
1st
 Restore Stamina
2nd
 Ravage Stamina
3rd
 Regenerate Stamina
4th
 Weakness to Shock
Sources
# Samples
27
Plant
Beehives, Vacant Beehives
# Plants
27
Creature
Bees
Merchant Avail.
Common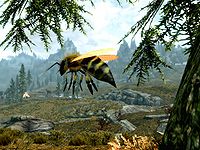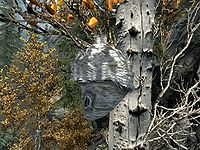 Bees are passive creatures that can be caught as they fly around, or they can be collected out of beehives, along with beehive husks and honeycombs.
Combinations
[
edit
]
In terms of combinations of two ingredients, Bees can be combined with 33 other ingredients.
2 Effects
[
edit
]
1 Effect
[
edit
]
| Desired Effect | Combine with: |
| --- | --- |
|  Restore Stamina | Bear Claws (0.8×), Charred Skeever Hide, Eye of Sabre Cat, Hawk Beak, Histcarp, Large Antlers, Mudcrab Chitin, Netch JellyDB (2.0×), Orange Dartwing, Pearl, Pine Thrush Egg, Powdered Mammoth Tusk, Purple Mountain Flower, Sabre Cat Tooth, Salmon RoeHF (0.4×), Silverside Perch, Small Pearl, Torchbug Thorax, Wisp Wrappings |
|  Ravage Stamina | Bone Meal, Deathbell (2.1×), ScathecrawDB, Spawn AshDB, Thistle Branch |
|  Regenerate Stamina | Alocasia FruitCC, Daedroth TeethCC, Fly Amanita, Mora Tapinella, Red Kelp Gas BladderCC, Scaly Pholiota, Scrib JellyCC, Wisp Stalk CapsCC |
|  Weakness to Shock | Ashen Grass PodDB, Giant Lichen, Hagraven Feathers, Trama RootDB, Void Salts |
Ingredients
[
edit
]
With the Dawnguard add-on, 2 guaranteed samples can be found in 2 different locations:
Bees are categorized as a common ingredient, meaning that all apothecary merchants have a 36% chance of carrying 1-5 samples. In addition, they may be randomly found in some barrels and in apothecary's satchels.
Creatures
[
edit
]
Hovering bees typically spawn near beehives. Bees can also be harvested from both beehives and vacant beehives—vacant beehives are missing honeycomb, rather than bees. In total, there are 27 beehives in 21 different locations, and 13 bee spawning sites (each of which can generate up to 10 bees). Locations with spawning sites and/or multiple hives are:
Also see our Skyrim map with beehive locations now marked.