Online:Vim Hlaalu
The UESPWiki – Your source for The Elder Scrolls since 1995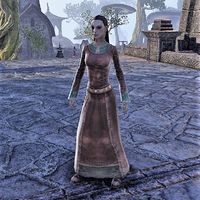 Vim Hlaalu is a Dunmer noble and the daughter of Councilor Ralden, the head of House Hlaalu. She wanders from the entry court of the Hlaalu Kinhouse to the lower garden in front.
Dialogue
[
edit
]
"You're the first interesting thing to walk into Narsis in a long time."
That's not what I've heard.
"Really? Plague? Kidnappings? Hostile cultists? Boring!
Just ask my father, the House Councilor. He says there's nothing to the rumors."
Can I talk to your father?
"No one ever wants to talk to me!
Fine. He's probably in the kinhouse."
During Fighting Back. If you picked the option that makes Naryu Virian disappear during For Their Own Protection
"Find my father, outsider. And the rest of the villagers, too."
If you told Naryu you're working for the House Councilor:
"That creepy advisor from Mournhold says my father's missing. How is that possible? He's the House Councilor!"
If you helped the villagers and the Councilor is alive:
"I heard they found my father. And he was safe!
If you had any part to do with it, I thank you."
If you didn't help the villagers and her father died:
"I've begun to hear rumors. They say there weren't many survivors. They say my ... my father was killed.
He should have taken this more seriously. I ... I can't believe he's gone."