Online:The Fires of Dune
The UESPWiki – Your source for The Elder Scrolls since 1995
I've arrived at the city of Dune to find it under siege by Daedra and the forces of Javad Tharn.
Quick Walkthrough
[
edit
]
Talk to the Champion in Dune.
Charge the Sacred Khajiit Fang by killing five atronachs, then use it to close the Daedric portal.
Find Esan outside the Mages Guild.
Destroy the totem in Walker's Stay inn.
Close the Daedric portal outside the Mages Guild.
Talk to Dagila inside the guild.
Cleanse the shrines of Jone and Jode.
Defeat the Daedra at the shrine of Lorkhaj.
Talk to the Champion, then follow her to the Temple of the Dance.
Detailed Walkthrough
[
edit
]
Javad Tharn has grown tired of waiting. There have been reports of Daedra and Stonefire cultists in Dune. You need to clear the city of Daedra, then meet Ayrenn at the temple.
First, you need to find the Champion in Dune. Shazah or Khali rescued Esan from the Mages Guild. He has a plan. When he saw the Daedra, he stole a fang talisman from the temple's vault. You can focus its power and close the Daedric portals. However, you need to power the Fang by holding it when you fight atronachs.
To charge the fang, defeat five atronachs inside Dune, then use the Sacred Khajiit Fang on the portal in the center of the city.
The Lunar Champion says Esan left to investigate a second Daedric portal near the Mages Guild. She sends you after him while she reports to the Thalmor council and gathers troops for you.
The Mages Guild Portal
[
edit
]
The Mages Guild is to the northeast. Esan is lying on the ground in front of the guild. The leaders of the guild turned on him. They must be working for Tharn. You need to kill Bayya, who has trapped the mages inside the guild, and destroy her totem.
Bayya is in the upper level of the inn Walker's Stay. Defeat her, destroy the totem and close the portal.
The Shrines of Jone and Jode
[
edit
]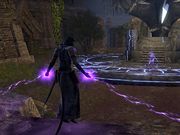 Dagila inside the guild says there is another portal in the temple district. The temple district is to the south.The Stonefire cult desecrated the shrines. You cleanse the shrines of Jone and Jode, while the Lunar Champion cleanses the shrine to Lorkhaj.
However, when you return to the Lunar Champion, Javad Tharn opens a dark anchor. He plans to walk the Path of Two-Moons himself. After you defeat the harvester, the Lunar Champion will thank you for saving her life.
As you run with the Lunar Champion to the Temple of the Dance, the people of Dune, the Vinedusk Rangers and even Queen Ayrenn will cheer and congratulate you on saving Dune.
Quest Stages
[
edit
]
The Fires of Dune
Finishes Quest
Journal Entry

Objective: Find the Champion

Objective: Charge the Fang

Objective: Close the Portal

Objective: Talk to the Champion

Hidden Objective

: Go to Mages Guild

Objective: Find Esan

Objective: Defeat Bayya

Objective: Destroy the Totem

Objective: Defeat Nuvondo

Objective: Enter Mages Guild

Objective: Talk to Dagila

Objective: Check on the Mages

Objective: Find the Champion in the Temple District

Objective: Cleanse Shrine of Jode

Objective: Cleanse Shrine of Jone

Objective: Face Down Javad Tharn

Hidden Objective

: Follow the Champion

Hidden Objective

: Vinedusk

Hidden Objective

: Falinesti

Hidden Objective

: Greenhill

Hidden Objective

: Willowgrove

Hidden Objective

: S'ren-ja

Hidden Objective

: Senalana