Online:The Citadel Must Fall
The UESPWiki – Your source for The Elder Scrolls since 1995
King Dynar has devised a two-pronged attack to take control of the Reaver Citadel. It utilizes the old Fighters and Mages Guilds' halls located in this ancient Nirn city.
Quick Walkthrough
[
edit
]
Talk to King Dynar.
Find a way into the Reaver Citadel.
Locate the ward key and gain access to the Fighters Guild.
Recover the portal stones and activate the Mages Guild portal.
Enter the Citadel Pyramid and defeat Valkynaz Seris.
Talk to Vanus Galerion.
Detailed Walkthrough
[
edit
]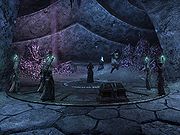 Quest Stages
[
edit
]
The Citadel Must Fall
Finishes Quest
Journal Entry

Objective: Talk to Lyranth

Objective: Find a Way Into the Citadel

Objective: Collect Fighters Guild Ward Key

Objective: Deactivate the Guild Hall Wards

Objective: Talk to King Laloriaran Dynar in the Fighters Guild Hall

Objective: Go to the Upper City

Hidden Objective

: Collect Portal Gem

Objective: Collect Portal Stones

Objective: Enter the Mages Guild Hall

Hidden Objective

: Restore Portal Crystal

Objective: Restore the Portal Stones

Objective: Talk to Vanus Galerion

Objective: Find the Pyramid Entrance

Objective: Enter the Pyramid

Objective: Kill Valkynaz Seris

Objective: Find the Labyrinth Key

Objective: Find Vanus Galerion