Online:A Lesson in Silence
The UESPWiki – Your source for The Elder Scrolls since 1995
This page is currently being rewritten as part of the Online Quest Project.
The page is being both written and checked. All users are welcome to make changes to the page. If you make a change that is relevant to the project, please update this template accordingly, and make sure you have observed the project guidelines.


Recent lectures in Kvatch by the Grand Sermonizer of Akatosh and her priests paint the Dark Brotherhood as powerless pretenders not to be feared. Astara wants the Grand Sermonizer dealt with—permanently.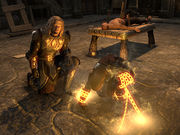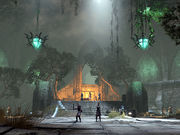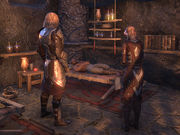 Quick Walkthrough
[
edit
]
Talk to Astara.
Kill three Akatosh Sermonizers.
(Optional) Eliminate two more.
Find the Grand Sermonizer.
Chase her down and kill her.
Talk to Astara back at the Sanctuary.
Check in on Tanek.
Detailed Walkthrough
[
edit
]
Quest Stages
[
edit
]
A Lesson in Silence
Finishes Quest
Journal Entry
Astara and the Dark Brotherhood have need of me. I must travel to the Sanctuary and speak to Astara.

Objective: Talk to Astara

Astara ordered me to go to Kvatch to meet up with Tanek. Then we can determine how to demonstrate the Dark Brotherhood's true power to the Grand Sermonizer and her followers.

Objective: Travel to Kvatch

I reached Kvatch. Now I should talk to Tanek and determine how we're going to proceed.

Objective: Talk to Tanek

I need to kill Akatosh Sermonizers in the streets of Kvatch, being careful to avoid guards and witnesses. The death of her priests should draw out the Grand Sermonizer so that Tanek can find her hiding spot.

Objective: Kill Akatosh Sermonizers: 0/3

Tanek discovered that the Grand Sermonizer has taken refuge in her family's estate outside the walls of Kvatch. I need to travel to her estate and find a way inside.

Objective: Enter the Grand Sermonizer's Estate

Optional Step: Kill More Akatosh Sermonizer

We entered the estate where the Grand Sermonizer is hiding. I should look around and see if I can determine what's going on here.

Objective: Spy on the Grand Sermonizer

The Grand Sermonizer is alone in the interrogation hall. Now's our opportunity to complete our mission and assassinate her for speaking out against the Dark Brotherhood.

Objective: Enter the Interrogation Hall

The Grand Sermonizer vanished, but she left behind the assassin she tortured to death. I should stand aside and let Tanek investigate the scene.

Objective: Wait for Tanek to Investigate

The Grand Sermonizer disappeared before I could finish her off, but Tanek still suffers under her spell. I should make sure he's all right before I chase after the Grand Sermonizer.

Objective: Check on Tanek

Kor arrived to help Tanek. He ordered me to finish the mission and chase down the Grand Sermonizer. I need to follow her escape route before she gets away.

Objective: Follow the Grand Sermonizer's Escape Route

I found the Grand Sermonizer's escape tunnel that runs beneath the estate. I should follow after her and try to catch her before she gets away.

Objective: Pursue the Grand Sermonizer

I caught up to the Grand Sermonizer and her cadre of Order of the Hour soldiers. Let the final battle begin!

Objective: Defeat the Grand Sermonizer

The Grand Sermonizer is dead. I should return to the Dark Brotherhood Sanctuary and report what happened to Astara.

Objective: Return to the Sanctuary

Astara needs to hear about what happened at the Grand Sermonizer's estate. I should tell her what happened to Brother Cimbar and about the warrior in black armor.

Objective: Talk to Astara

Kor helped Tanek make it back to the Sanctuary, though Tanek was badly injured by the Grand Sermonizer's trap. Tanek has asked to see me. I should check on him.

Objective: Talk to Tanek

Tanek recovers under the watchful eyes of Kor and Hildegard. I should wait for them to finish their visit.

Objective: Wait for Kor and Hildegard

Tanek sent Kor and Hildegard away and asked to speak to me privately. I should find out what he wants.

Objective: Talk to Tanek

Tanek will recover, given rest and time. I should see if there's anything else he needs before we consider the Grand Sermonizer situation dealt with.

Objective: Talk to Tanek