Online:Saevus Minutius
The UESPWiki – Your source for The Elder Scrolls since 1995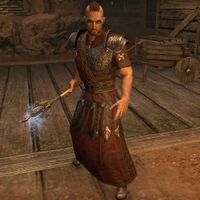 Saevus Minutius is an Imperial mage who leads the Skooma smuggling ring, the Dirty-Drakes. He has a talent for summoning Daedroths, which he has been using as a distraction from the Dirty-Drakes' moon-sugar thefts. He can be found in the Skooma Workshop within the Merryvale Sugar Farm Caves.
Related Quests
[
edit
]
Quest-Related Events
[
edit
]
When you track down the monster that has been harassing the local farmers, you can observe Saevus' projection talking to the beast.
Saevus Minutius: "Very good, my pet. That should distract those farmers for quite awhile."
He will then notice you.
Saevus Minutius: "An intruder! Quick, Dolor, kill them at once!"
After you find the hidden Dirty-Drake lair beneath Merryvale, you can overhear Saevus talking to someone as you progress through the tunnels.
Saevus Minutius: "You think I left Cyrodiil for a few pieces of gold? We need to double our production!"
Saevus Minutius: "The time for stealth and subterfuge is ending. Soon we will launch a raid on the farms!"
Saevus Minutius: "Patience, Timtem, patience. We'll find the one who killed your brother and flay them alive!"
When you reach him in this workshop, he will be with the brother of Dolor, Timtem the Terrible:
Saevus Minutius: "So you're the ones interfering in my operation? You'll pay dearly for that."
Razdum-dar: "Now's our chance to end this, once and for all!"