Online:Magelight
The UESPWiki – Your source for The Elder Scrolls since 1995
To meet our site's higher standard of quality, this article or section may require cleanup.
The user who placed this here had the following concern:
May need to be updated following changes in Update 26.
To leave a message about the cleanup for this article, please add it to this article's talk page.
Magelight
Line
Mages Guild
Line Rank
2
Cost

5130

 

Magicka

Cast Time
Instant
Duration
5 seconds
Target
Area
Area
6 meters
Morphs
Inner Light


Also increases your Max Magicka while slotted.

Radiant Magelight
Increases the radius of the reveal. You and nearby allies cannot be stunned from sneak attacks while slotted. Reduces the cost as the ability ranks up.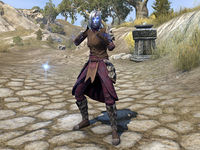 Magelight creates a light which orbits around you, revealing all stealthed and invisible enemies around you. A target revealed this way cannot return to stealth or invisibility for 3 seconds. It also passively increases your Spell Critical while slotted. The Inner Light morph also increases your Maximum Magicka while slotted, while the Radiant Magelight morph reduces the cost and doubles the radius of the ability, while also passively decreasing damage from stealth attacks while slotted.
This skill is most useful in PvP, as very few NPC enemies use stealth attacks.
Before Update 10, this skill was a toggle that increased your

Spell Critical

while active, but also decreased your

Maximum

 

Magicka

. Inner Light increased

Maximum

 

Magicka

instead if decreasing it, and Radiant Magelight revealed hidden or invisible enemies, prevented being stunned by stealth attacks, and reduces damage from stealth attacks.
Before Update 6, this skill was a toggle revealing hidden and invisible enemies to the caster, while increasing

Spell Critical

and decreasing

Maximum

 

Magicka

while active. Inner Light further increased the spell critical, while Radiant Magelight decreased stealth attack damage for nearby allies.
Inner Light is a recommended morph for the Inferno Dragon, Deathweaver, Blood Magus, Elemental Arcanist, Eldritch Mender, Gleaming Champion, Beacon of Hope, and Beast Caller builds.
Patch Notes
[
edit
]