Online:Costumes K
The UESPWiki – Your source for The Elder Scrolls since 1995
---
Kamali Akaviri Assassin Outfit
[
edit
]

This costume represents the armor worn by the assassins who accompanied the Kamali Akaviri invasion.
(?).
Dyeing

Slot 1:
Slot 2:
Slot 3:
(The (?) is/are not dyeable)
Karthwatch Jarl Finery
[
edit
]

Established to create an impregnable border between Skyrim and the Reach, Karthald Hold maintains a war footing year-round, and its jarl stands at the ready to leap to the defense of Skyrim in this regal mix of satin and steel.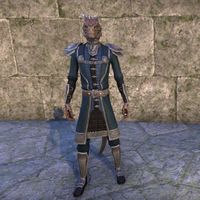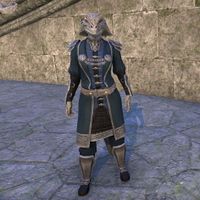 Available as a Legendary-level reward in Nightfall Crates.
Dyeing

Slot 1: Dark blue coat and pants
Slot 2: Black trim, boots and gloves
Slot 3: Silver trim and metal bits
(The belt and the blue on the undercoat are not dyeable)
Kinlord's Alinor Attire
[
edit
]

Even if you're not a kinlord, every High Elf is a noble at heart, and wants something in his wardrobe suitable for attendance at Alinor's Royal Palace. This majestic Elven ensemble is just the thing!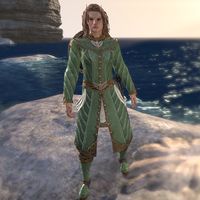 Used to be sold in the Crown Store for 010001,000 

. This outfit was removed from the crown store without prior notice in September 2018 for unknown reasons, and is now available as an Epic-level reward in Baandari Pedlar Crown Crates.
Dyeing

Slot 1: Most of suit and shoes
Slot 2: Suit and shoe trim, belt, shoulders
Slot 3: Pants, sides of shoes
(White cloth on waist and under suit jacket are not dyeable)
Knight of the Flame
[
edit
]

Plate and chainmail armor with red accents, topped by an armet helm with open visor, as worn by the Breton Knights of the Flame.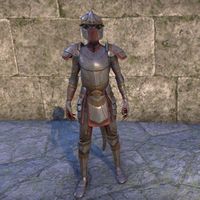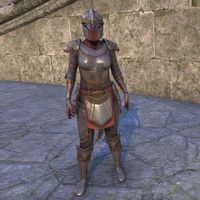 A Breton knight costume. Part of Armored Knights Pack which is sold in the Crown Store for 00700700 

. This was retired from the crown store on December 11, 2017. [1]. It is now available in the Adept Starter Pack alongside the Mages Guild Research Robes, Crafty Lerisa's Thief Outfit and White Mane Horse for 010001000 

.
Dyeing

Slot 1: Main armor plating
Slot 2: Trim on armor, upper visor on helm
Slot 3: Under armor, face guard, arm and knee straps, gloves, belt, back of shins