Online:Caluurion
The UESPWiki – Your source for The Elder Scrolls since 1995

This article could benefit from an image.
See Help:Images for information on how to upload images. Please remove this template from the page when finished.
Caluurion
Location
Fang Lair
Race
Altmer
Gender
Male
Reaction
Friendly
Other Information
Condition
Spirit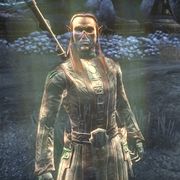 Caluurion is a Lich who serves as the third boss of Fang Lair. During the fight, he will activate the Wamasu, Serpent, Lurcher, Mammoth, and Shalk relics, which will give him varying boosts.
He was originally an Altmer and one of the adventurers who slew the dragon Thurvokun in the First Era, along with Ulfnor and Sabina Cedus. In undeath he has been bound to serve the necromancer Orryn the Black. Once he is defeated, his spirit will be freed and can be spoken to in later stages of the dungeon.
Related Quests
[
edit
]
Dialogue
[
edit
]
Combat Dialogue
[
edit
]
"How much more of your company must I endure, Orryn? None of you are welcome here!"
"Leave me to this empty existence!"
"Venomous serpents are the heralds of a slow and painful death."
"Finally, a moment's peace!"

Conversation after being defeated:
Yisareh: "Caluurion! By your true name spoken, I compel you to rise once more and tell us of your captors."
Caluurion: "You are no friend to me, conjurer, but release those who walked with me in life and I will consider you an ally. Fail and we will have a very long time to become acquainted."
Yisareh: "That's an acceptable bargain."
Caluurion: "Then find Ulfnor and Sabina and dispatch them as you did me."
Conversations
[
edit
]