Online:Prison Break
The UESPWiki – Your source for The Elder Scrolls since 1995
This page is currently being rewritten as part of the Online Quest Project.
The page is being both written and checked. All users are welcome to make changes to the page. If you make a change that is relevant to the project, please update this template accordingly, and make sure you have observed the project guidelines.

Silver-Claw found out the Iron Wheel is planning to ship Zeira to Taneth. As acting guildmaster, I've called on the Thieves Guild to do something about it.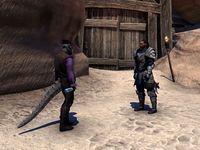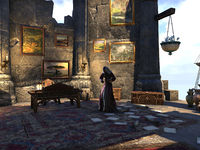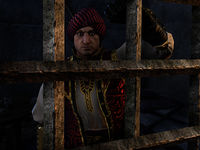 Quick Walkthrough
[
edit
]
Talk to Silver-Claw in the Thieves Den.
Make preparations for Zeira's rescue.
Head to No Shira Citadel and find a way inside.
Go to Chief Inspector Rhanbiq's office.
Speak to Magnifica Falorah.
Enter No Shira Prison.
Find Zeira's Cell Block.
Decide the former guildmaster's fate.
Rescue Zeira from the prison ship.
Escape No Shira Citadel.
Talk to Zeira at the Thieves Den.
Detailed Walkthrough
[
edit
]
Preparing in the Den
[
edit
]
When you enter the Thieves Den, you'll find Silver-Claw pacing around nervously. He tells you the Iron Wheel is leaving, and that they plan to take Zeira to Taneth to stand trial for raiding Al-Danobia Tomb. She's being held somewhere in No Shira Citadel.
Talk to your companions. Walks-Softly will remind you that the Iron Wheel is trained to recognize members by mannerism instead of faces, as they often switch out people to avoid them from forming attachments with the locals. He also tells you he knows their behavior well enough to impersonate them. Walks-Softly tells you to bring the journal from Al-Danobia Tomb to No Shira Citadel, but won't tell you why just yet. Next, talk to Quen. Quen tells you she'll scout the citadel for the best way in, and marks a rendezvous point on your map. You'll meet her there after she's done scouting. Lastly, talk to Velsa, who is annoyed that she is once again being dragged into guild business, as she's retired. Regardless, she promises to cause a distraction at the front gate to make your entrance easier.
No Shira Prison
[
edit
]
Take the journal and meet Quen at the location marked on your map.Where exactly? any nearby locales? Which cardinal direction away from said locale? She informs you that Velsa's distraction is working, and proceeds to tell you about a small gap in the wall that you can enter. There's only one sentry at this location, and Walks-Softly is already waiting for you there.
any specific/helpful navigation tips?
Go talk to Walks-Softly. The sentry is thirsty, and Walks-Softly plans to take the man's uniform while you enter No Shira Citadel. Once inside, Velsa will appear, telling you that she will continue to follow you in the shadows. Walks-Softly suggests that you drop the journal in Chief Inspector Rhanbiq's office to ensure Nicolas is sentenced during his trial at Taneth. At the same time, you may be able to find out where Zeira is being held. Sneak or fight your way into Chief Inspector Rhanbiq's office,Any specific directions? where you'll find Magnifica Falorah. Talk to her.
"I have no quarrel with you. My dowry is safely returned to al-Danobia Tomb, as are the remains of my ancestor. Those responsible are in custody.
Yet I am not entirely satisfied with the outcome."
Nor am I.
"My former fiance Cosh … that is, Nicolas … has been very cooperative with the Iron. He claims he was duped, that stealing my dowry was Zeira's plan all along.
Zeira has said nothing."
What do you think?
"Zeira's price to surrender was the safety of those she brought along to the wedding. You, and your strange little friend. Almost … honorable, in her own way.
Nicolas lies—I know that now. But Chief Inspector Rhanbiq has no evidence to the contrary."
I have evidence. I'll trade it for Zeira's freedom.
"The town criers in Taneth already proclaim her trial. Politics as they are, I cannot simply release her.
But I can tell you where she is. And I can offer a lucrative proposal to your entire organization—to her directly, once you free her."
Deal. Here, read this journal. It will prove Nicolas' guilt.
"Good. Zeira is held in the prisons beneath us, but you must hurry. Chief Inspector Rhanbiq plans to move her—to where, I do not know.
I'll escort you to the prison door. If you stay by my side, the Iron Wheel shall cause you no harm. Are you ready?"
I'm ready.
She tells you Zeira is in the prison underneath, and will lead you there to prevent the Iron Wheel from stopping you. Follow her and Walks-Softly will find you inside. From there on, navigate to the cell blocks. Soon after entering, you'll find Nicolas's cell. He says he knows where Chief Inspector Rhanbiq took Zeira and is willing to tell you in exchange for a single lockpick. Walks-Softly, Velsa, and Quen come walking up at this point. You can consult with them before making your decision if you'd like.
Walks-Softly will tell you Nicolas used to be bad at lockpicking, so all you're giving him is a slight sliver of hope in exchange for finding Zeira in time. Velsa will say she knows Nicolas indeed knows the location and that you should give him the lockpick because it get's you what you need. Quen will be harshly against giving the lockpick, and says that transfer orders are stored upstairs so you can get the info there.
Giving Nicolas a lockpick
[
edit
]
If you give Nicolas a lockpick, he'll tell you Zeira's location right away and you can continue.
Refusing Nicolas a lockpink
[
edit
]
If you refuse to give Nicolas a lockpick, Nicolas will tell you only that there are transfer papers in the Warden's Office. Go to the wardens office and grab the transfer papers.
Finding Zeira
[
edit
]
After finding Zeira's location, leave through the door to No Shira Harbor. Grab the key from the table, and go onto the ship. Walks-Softly will be waiting at the entrance. Go inside and you hear Chief Inspector Rhanbiq talking to Zeira. Talk to him. He tells you you have the upper hand due to his lack of weapons, which puts you in a position to talk. He'll explain that without proof, Nicolas his story will be believed. Tell him about the journal you have to Falorah. At this point, his reaction will change depending on your choice of returning the Giovessen Skull during Partners in Crime or not, and Velsa will sneak up behind him, who will knock him out while you've got his attention. After this, unlock Zeira's cell door and talk to her. Zeira will be happy to be saved, and tell you she can't wait to get to the den after "taking care of some business". Outside you'll find Falorah talking with Walks-Softly. Zeira will tell Falorah she will discuss things with her later. Leave using the rowboat a bit north. Head back to the Thieves Den and talk to Zeira. She tells you the Iron Wheel is no longer a danger, that Nicolas will be put onto a trial for show and convicted, after which she'll tell you she's going to see what Falorah for opportunity has to offer and the quest is completed.
Quest Stages
[
edit
]
Prison Break
Finishes Quest
Journal Entry
I should speak with Silver-Claw in the Thieves Den.

Objective: Talk to Silver-Claw

The Thieves Guild has assembled in the Den. I should speak to each of them and organize Zeira's prison break.

Objective: Organize the Thieves Guild to Rescue Zeira: 0/3

I should bring the Evidence of Nicolas's Treachery with me. It's in the Thieves Den.

Objective: Take the Evidence of Nicolas's Treachery

I should meet Quen outside No Shira Citadel.

Objective: Meet Quen outside No Shira Citadel

I should speak to Quen outside No Shira Citadel.

Objective: Talk to Quen

Quen found a way into the Iron Wheel's headquarters. I should meet Walks-Softly outside No Shira Citadel.

Objective: Meet Walks-Softly Outside No Shira Citadel

Walks-Softly has a plan to get past the Iron Wheel sentry outside No Shira Citadel.

Objective: Bypass the Iron Wheel Sentry

I should speak with Walks-Softly inside the entrance to No Shira Citadel.

Objective: Talk to Walks-Softly

I should find Chief Inspector Rhanbiq's office in No Shira Citadel.

Objective: Go to Chief Inspector Rhanbiq's Office

Magnifica Falorah was inside No Shira Citadel. Although wary of my intentions, it seems she wants to talk.

Objective: Talk to Magnifica Falorah

The Iron Wheel holds Zeira in No Shira Prison. I should search for her cell block. Once I'm there I should be able to locate her cell.

Objective: Find Zeira's Cell Block

Objective Hint: Follow Magnifica Falorah to No Shira Prison

Objective Hint: Enter No Shira Prison

Zeira was not in her cell block, but Nicolas was. I should speak with him and see what he knows.

Objective: Talk to Nicolas

If I provide Nicolas with a single lockpick, he will tell me where to find Zeira. Before I make my decision, I could consult with the others in No Shira Prison.

Objective: Decide the Fate of Nicolas

Objective Hint: Consult with the Thieves Guild

The Warden's Office in No Shira Prison has Zeira's transfer orders which should reveal her location. (If you didn't agree to help Nicolas)

Objective: Get Transfer Orders from the Warden's Office

Zeira is aboard a prison ship that is about to leave No Shira Prison. I should hurry there.

Objective: Find Zeira on the Prison Ship

Objective Hint: Get a Key from the Guard

Objective Hint: Lockpick the Prison Hold Door

I need to free Zeira from the prison ship outside No Shira Citadel.

Objective: Free Zeira

Objective Hint: Talk to Chief Inspector Rhanbiq

Objective Hint: Unlock the Cell

I should speak to Zeira now that she is freed and back in charge.

Objective: Talk to Zeira

Zeira and I should escape No Shira Citadel before the Iron Wheel realizes. Other prisoners have been freed as well and are retrieving much of the amassed treasure

Objective: Escape No Shira Citadel

Objective Hint: Find a Rowboat

I should return to the Thieves Den and speak with Zeira.

Objective: Meet Zeira at the Den