Online:Breda
The UESPWiki – Your source for The Elder Scrolls since 1995
Breda
New Life Herald
Location
Tent south of Windhelm
Race
Nord
Gender
Female
Health
39959
Reaction
Friendly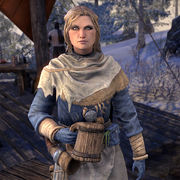 Breda the New Life Herald is a Nord lumberjack found at a tent south of Windhelm during the New Life Festival. She spreads knowledge of the Festival and how it is celebrated by the different races of Tamriel.
She serves as both the giver of the New Life Festival repeatable quests and the person who you turn them in to. For each quest she explains the story behind that tradition, which race celebrates it, and where it is located.
The New Life Herald is only a temporary position which was bestowed upon Breda, who travels on a pilgrimage every year from the Knotty Pines Lumber Mill to meet her festival friends in Eastmarch. She sends a barrel of mead back to her mill workers, which has led to accidents before.
Related Quests
[
edit
]
Dialogue
[
edit
]
The New Life Festival
[
edit
]
"You're here for the New Life Festival? I'm happy to serve as a herald. I can tell you all you need to know!"
What is the New Life Festival?
"It marks a fresh start to the new year, for all who walk beneath the sun. Everyone in Tamriel celebrates!
Well, perhaps not the Maormer - but everyone else. You should try it for yourself and see!"
I'm interested. Tell me more about it.
"The New Life Festival was once a celebration of Magnus, the sun god. I have a book—you're welcome to read about the history, if you care to.
But I'd rather tell you about the celebrations. Very few involve a chance of paper cuts!"
"Celebrations?" There are more than one?
"Of course! They're different all over. I've taken part in cliff jumping, anchor tossing, and even drunken echatere racing... though Orsinium had to cancel that one.
Simply ask, and I'll send you to the best celebrations in Tamriel!"
Meet This Year's Officiate - Breda, a letter from Breda to her fellow mill workers giving background on the New Life Festival and opponents to it, was released on the official site before the 2016 festival took place.