Online:Blithe Croque
The UESPWiki – Your source for The Elder Scrolls since 1995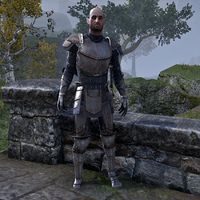 Blithe Croque is a Breton member of the Lion Guard found at the Lion Guard Redoubt.
Related Quests
[
edit
]
Quest Related Events
[
edit
]
Rescue the last of the beleaguered Lion Guards and he'll come running up to you:
Blithe Croque: "We have something important to discuss, but not here. It's not safe."
Blithe Croque: "Meet me at the wayshrine near the Lion Guard Redoubt. It's safer there!"
Meet him by the wayshrine and he'll tell you:
"Thank Kynareth I found you! You don't know how many people I met who had been torn apart by these cultists and their creatures."
Slow down. Tell me what's going on.
"I was with Wizard Benele at the nearby Merovec's Folly, looking for an important relic.
When the undead attacked us, we were forced to retreat. But the mage swore she was close to finding something. She did some magic thing and vanished."
She just vanished?
"She said that a nearby crypt contained a relic we needed to defeat Angof. I would have remained by her side, but she just disappeared!
I told Commander Ales what happened and he said I should find you and let you know."
Any idea where the crypt she talked about might be?

"The crypt's got to be somewhere near the ruins of Merovec's Folly. She kept a journal that she was constantly writing in. I'm sure it contains the location of the crypt.
Our camp is west of the redoubt. Her journal is probably still there."

What can you tell me about Wizard Benele?

"Wizard Benele is nice enough, but she's not very sensible. She barely looked up from her books and scrolls, even when the fighting got intense.
Oh, she'd pause long enough to zap a zombie that wandered too close, but otherwise she was oblivious."

I'll check the campsite and find Wizard Benele.
"I sure appreciate you stepping in to help that mage."
Return to the redoubt with Benele and he'll be waiting there:
"Good luck out there."