Online:Aryo Hlaalu
The UESPWiki – Your source for The Elder Scrolls since 1995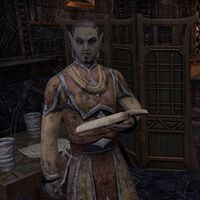 Aryo Hlaalu is a Dunmer noble of House Hlaalu found in his kinhouse in the town of Narsis.
Dialogue
[
edit
]
Before any of the quests in Narsis:
"No one ever listens to what I have to say. Just make sure the ledgers are balanced. That's all the think I'm good for."
During For Their Own Protection:
"The disappearances have put everyone on edge."
"Giron and Ralden used to be such good friends."
During Fighting Back:
"The House Councilor is missing? Oh, what dreadful news!"
"It was the Maulborn, wasn't it? I knew they seemed too good to be true!"
During Hiding in Plain Sight:
"I heard Varon mention the name Vox. I've heard that name somewhere. If only I could remember where and when. I'm sure it will come back to me—eventually."
"Have you located the House Councilor yet? With every passing moment, the chances of finding him alive become less and less likely."
After Hiding in Plain Sight:
"You know, I don't think Varon Davel is who he claims to be. But at least he took charge after the councilor disappeared."