Online:A Special Request
The UESPWiki – Your source for The Elder Scrolls since 1995
This page is currently being rewritten as part of the Online Quest Project.
The page is being both written and checked. All users are welcome to make changes to the page. If you make a change that is relevant to the project, please update this template accordingly, and make sure you have observed the project guidelines.


| | | | | |
| --- | --- | --- | --- | --- |
| | | Complete a high-profile contract... or two. | | |
Governor Fortunata of Anvil has taken a contract with the Dark Brotherhood. She's added a special request, however. She wants to meet with the assassin personally before completing the deal.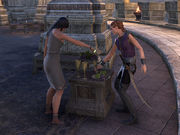 Quick Walkthrough
[
edit
]
Speak to Astara Caerellius in Dark Brotherhood Sanctuary to get the details on the contract.
Travel to Anvil Castle and talk to Governor Fortunata ap Dugal.
Head to Kvatch to proceed with the contract.
Find your way into Castle Kvatch.
Kill Commander Marcus Scipio.
Find Count Carolus and inform him about commander's death.
Accept the second contract.
Travel back to Anvil and speak to Mirabelle for advice.
Enter the castle and poison the wine decanter.
Meet up with Governor Fortunata and inform her of the success of your initial contract.
Share a drink with Fortunata.
Head back to the Sanctuary to inform Astara of the events.
Detailed Walkthrough
[
edit
]
Quest Stages
[
edit
]
A Special Request
Finishes Quest
Journal Entry
I should go to Anvil Castle and find out who Governor Fortunata ap Dugal wants to kill.

Objective: Talk to Governor Fortunata

In order to carry out Governor Fortunata's contract, I first have to find a way to get inside Castle Kvatch. She suggested getting a key to the gatehouse from the castellan or I can talk to one of the officers at the gate and try to gain entry there.

Objective: Infiltrate Castle Kvatch

Optional Step: Talk to the Castle Gate Officer

Optional Step: Obtain the Gatehouse Key

I'm inside Castle Kvatch. Now I need to locate and murder Commander Marcus Scipio, leader of the Order of the Hour.

Objective: Kill Commander Marcus Scipio

I murdered the commander of the Order of the Hour. Now I need to find Count Carolus and tell him what happened to Commander Scipio to complete this contract.

Objective: Find Count Carolus

I found Count Carolus in the midst of performing the Black Sacrament—the ritual used to summon the Dark Brotherhood. I should talk to him and see what this is all about.

Objective: Talk to Count Carolus

It appears that Speaker Terenus came in response to the Count's Black Sacrament ritual. He wants to speak with me.

Objective: Talk to Speaker Terenus

My new contract calls for the death of Governor Fortunata. I should meet Mirabelle at Anvil Castle and see if she has any advice on breaching the Pirate Queen's defenses.

Objective: Find Mirabelle Outside Anvil Castle

I need to reach Governor Fortunata's private pantry on the upper level of the castle and put poison in her favorite wine. Mirabelle suggests I use the secret passage to get around. I can find an entrance wherever I see a red drape over an alcove.

Objective: Poison the Wine Decanter

The wine decanter has been poisoned. Now to let Governor Fortunata know that I killed Marcus Scipio and see if I can get her to drink to her good fortune.

Objective: Talk to Governor Fortunata

Governor Fortunata is so pleased that I completed her contract, she's invited me to share a drink on her private balcony. I should follow her to the balcony.

Objective: Share a Drink with the Governor

Governor Fortunata is dead and Count Carolus's contract has been fulfilled. I should return to the Sanctuary and let Astara know what happened here.

Objective: Return to Astara at the Sanctuary