Oblivion:Harborside Warehouse
The UESPWiki – Your source for The Elder Scrolls since 1995
Console Location Code(s)
AnvilHarborsideWarehouse
Location
Anvil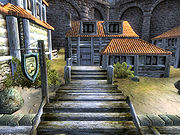 The Harborside Warehouse is a warehouse used by the town for storage on the Anvil dockside. It is hidden away between Lelles' Quality Merchandise and The Fo'c's'le.
The town uses it for storage of junk and clutter and have allowed Wilhelm the Worm to stay there, mostly, as he puts it, "to keep out the rats". It seems similar to the Warehouse in the Market District in the Imperial City, where Gelephor seems to serve the same purpose as Wilhelm. The Harborside Warehouse and its contents are owned by the town, so even if you pick up a piece of cloth, it is considered stealing. The Warehouse is off limits and Wilhelm the Worm will chase you out or call the authorities if he detects you.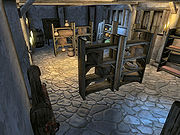 The area by the entrance is largely empty, with only a couple of spools of rope, an empty barrel and a couple of candles to light it up. To the east is the main storage room. Two sets of shelves stand in the middle of the room with three open grain sacks between them. The easternmost shelves contain three sacks, three crates, and a lectern, all with clutter and the occasional useful item, like a repair hammer. The opposite set of shelves contains four clutter crates, a sack, and five spools of yarn.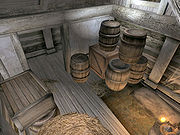 The southernmost shelves contain four bottles of cheap wine and two sacks, both with clutter and a few gold coins. In the opposite side of the room, past the two sets of shelves, sits a cupboard with more junk and a few empty kennels. The shelves nearby hold a bit of food for Wilhelm: four pumpkins, two heads of lettuce, and a watermelon. A clutter sack can be found right next to the shelf. The next set of shelves contains pottery, while a chest and a crate on the adjacent shelves hold even more junk. The final shelves hold two rare stone bricks. All of the sacks and the lectern in the main storage room are non respawning and therefore are safe for storage while the crates and barrels are not.
Going up the stairs, to Wilhelm's humble quarters, more non respawning containers can be found. On top of the stairs, a crate and a barrel hold food, while a bit of coin can be found in the last crate. Inside Wilhelm's "room", right next to the door, are two barrels with food, and two barrels and a crate with clutter. Opposite them are more containers with clutter: two barrels and two crates. Wilhelm's bedroll is dimly lit by a single candle and a sample of bonemeal can be found near his stool.
The door to the warehouse is not owned by the proper faction which can sometimes get Wilhelm the Worm killed for trespassing.