Oblivion:Fort Grief
The UESPWiki – Your source for The Elder Scrolls since 1995
This page is currently being redesigned for the Oblivion Places Redesign Project (OPRP). The page needs in-game walkthrough(s) to go along with the maps and content lists. If you make an addition to this page, please update this template accordingly, but make sure you have observed the project guidelines.
Needs in-game verification. See the OPRP project page for explanation of what needs to be done to complete the verification process.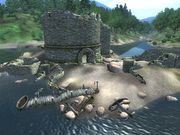 Fort Grief is a medium-sized fort northeast of Bravil containing NPCs (quest-locked). It contains two zones: The Hunter's Run and The Hunter's Abyss.
Related Quests
[
edit
]
The gate to the Fort is locked but can be opened by turning the handle on the ground nearby. However, unless you have begun the Caught in the Hunt quest in Bravil you will receive a "... rusted ... won't open" message.
You cannot fast travel when you are in the exterior part of the fort ruins.
Exterior
[
edit
]
The exterior is located at coordinates: Tamriel 24, -6
This location's map marker (M on map) is named Fort Grief (editor name FortGriefMapMarker). The entrance door is ENE of the marker, 140 feet away.
Aleron Loche (non-respawning) is near the entrance
Ra'jhera the Keeneye (non-respawning) is near the entrance
1 Wooden Chest containing 2 Shadowbanish Wine (locked) is at location W on map
The following weapons can be found near the entrance: 1 Fine Iron Bow, 1 Fine Iron Longsword, and 7 Iron Arrows
The other following items can be found near the entrance: 1 Red Silk Hood, 1 Red Silk Robes, 1 pair of Gold Trimmed Shoes, and 1 Iron Shield
Some of the above items are clustered at location C: 4 Iron Arrows, 1 Red Silk Hood, 1 pair of Gold Trimmed Shoes, and 1 Red Silk Robes
Kurdan's Boat is at location E on map
1 bedroll is at b
Zone 1: The Hunter's Run

[

edit

]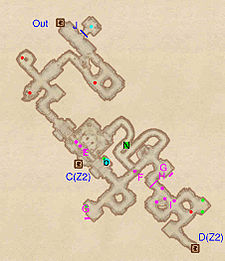 This zone has sections that are underwater
Occupants:
Treasure:
Traps:
Doors and Gates:
There are three doors in/out of this zone

1 door (at Out) leads outside
2 doors (at C and D) lead out of dungeon to The Hunter's Abyss and The Hunter's Abyss

1 Gate at J (locked, key required, opened by Fort Grief Real Key)
Other:
1 bedroll at location b on map
Zone 2: The Hunter's Abyss

[

edit

]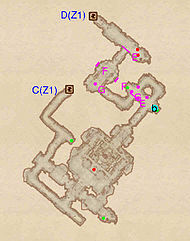 This zone has sections that are underwater
Occupants:
Treasure:
Traps:
Doors and Gates:
There are two doors (at D and C) in/out of this zone, both leading to the zone The Hunter's Run
Other:
1 bedroll at location b on map