Oblivion:Bloodmayne Cave
The UESPWiki – Your source for The Elder Scrolls since 1995
This page is currently being redesigned for the Oblivion Places Redesign Project (OPRP). The page needs in-game walkthrough(s) to go along with the maps and content lists. If you make an addition to this page, please update this template accordingly, but make sure you have observed the project guidelines.
Needs in-game verification. See the OPRP project page for explanation of what needs to be done to complete the verification process.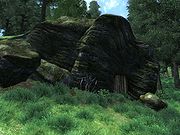 Bloodmayne Cave is a medium-sized cave west of Bravil containing bandits (quest-related). It contains two zones: Bloodmayne Cave and Bloodmayne Cave Labyrinth.
Related Quests
[
edit
]
The fugitives do not respawn after the quest is completed, although the monsters and chests will respawn.
The monsters will not spawn until the quest has been completed.
There is a second entrance to this cave (NW of the main entrance) which does not have a map marker.
This cave contains 20 Cairn Bolete plants and 17 Wisp Stalk plants.
Exterior
[
edit
]
The exterior is located at coordinates: Tamriel 10, -9
This location's map marker (M on map) is named Bloodmayne Cave (editor name BloodmayneCaveMapMarker). The entrance door is N of the marker, 60 feet away.
1 Nirnroot is at location N on map
Zone 1: Bloodmayne Cave

[

edit

]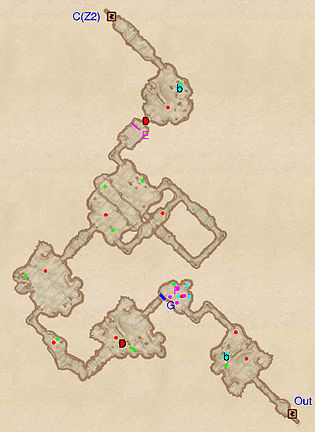 This is a relatively straightforward dungeon. As you walk into the larger area, you will find two monsters and some chests. Walk down the preceding area avoiding the traps in the room full of ropes and activate these to open the rock wall nearby. Walk into the next area and find two chests and the first fugitive and one monster. Next, follow the hallway further until you reach the end, collecting five chests and killing four enemies. Avoid the log trap leading to the final area. Kill the final fugitive and another monster and open another chest and head into the next area, Bloodmayne Cave Labyrinth.
Occupants:
2 Fugitives (Ashanta and Hlofgar, both targets of the related quest; non-respawning) at locations D on map
Treasure:
Traps:
Doors and Gates:
There are two doors in/out of this zone
1 Rock Wall (opened remotely) at G, opened by pulling the 'Pull Ropes' (cyan dots on map) in the adjacent room
Other:
2 bedrolls at locations b on map
Zone 2: Bloodmayne Cave Labyrinth

[

edit

]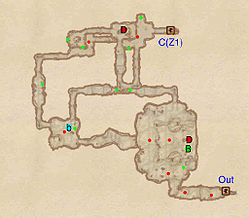 Exiting the previous area, you soon come upon two paths. One will lead to multiple treasure chests and the third fugitive, while the other leads to a couple chests and the next area. Regardless of your choice, it will lead you to an open area containing five monsters, the final fugitive, and a boss-level chest. After collecting the spoils, head outside.
Occupants:
2 Fugitives (Dreet-Lai and Enrion, both targets of the related quest; non-respawning) at locations D on map
Treasure:
Doors and Gates:
There are two doors in/out of this zone
Other:
1 bedroll at location b on map