Morrowind:Percius Mercius
The UESPWiki – Your source for The Elder Scrolls since 1995
This page is currently being rewritten as part of the Morrowind Overhaul Project.
The page is being rewritten and checked in several stages. If you make an addition to this page, please update this template accordingly, but make sure you have observed the project guidelines.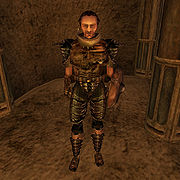 Percius Mercius is an Imperial drillmaster and a Guardian in the Fighters Guild. Percius, an all around "good guy" and former Master of the Fighters Guild, is the main quest giver of the Ald'ruhn Guild of Fighters. You may go to him for guidance about other Fighters Guild quests. His early quests deal with normal Fighters Guild issues, while his later quests deal with the cleansing of the Fighters Guild, which has been overtaken by the Camonna Tong. Afterwards, he settles down and lets you run the guild with honor.
Caius Cosades knows and trusts him. He is a thoroughly honest man, and you can ask for his advice on many quests from his more morally ambiguous colleagues.
He is wearing a near full set of netch leather, including the cuirass, both pauldrons, both gauntlets, greaves, boots, and shield. He is also wearing common pants and he is wielding a steel broadsword of hewing. He is carrying an iron key which opens a few locks in his private quarters. Aside from his natural charm and ability to absorb fatigue from others, he knows no spells.
Dialogue
[
edit
]
any advice:

"Having been Guildmaster, I have a good feel for which way the wind is blowing. If you receive any orders that seem out of the ordinary to you, let me know. I'm more than willing to help out."

Fighters Guild:

"I used to be the Master of the Fighters Guild, but took the opportunity to retire here in Ald'ruhn. Do you want to join the Fighters Guild? We're always looking for recruits."
"Things have really gone bad since I was the Master of the Fighters Guild. Sure, Sjoring Hard-Heart's a good fighter, no one disputes that. But I've heard he's been making deals with the wrong crowd. But I've said too much already. Maybe when you've proven yourself we can talk again.

Guildmaster:

"I used to be the Guildmaster. That position now belongs to Sjoring Hard-Heart. He's taken the Fighters Guild in some questionable directions. He's got too many followers in the high ranks, and I can't do much from here to keep the Fighters Guild honest. You can trust me, and you can trust Hrundi in Sadrith Mora. He's not in Sjoring's pocket yet."

help us fight:

"So you work for the Thieves Guild too? Hmph. I'll tell you what I know. Hrundi in Sadrith Mora used to be my second in command. He's a good man, and he might be persuaded to join your cause. I hesitate to suggest this, but I trust you. Hrundi has a lover. A Dunmer, from what I hear. If you find her, you can convince Hrundi to join your cause.

Continue

Eydis Fire-Eye is a good fighter, but there's always been something dark about her. I found out just recently what that was. She's a worshipper of Clavicus Vile. I don't know how you can use this information. I'm sure she can't be blackmailed.

Continue

The new Master of the Fighters Guild is Sjoring Hard-Heart. He owes too much Camonna Tong money to back out now. There's no way you can convince him. You'll have to kill him."

"I've told you all I can."

Orders:

"I don't have much work for anyone under the rank of Swordsman. These Redorans are honorable enough, and they keep things pretty quiet around here. If you ever need any advice or have any questions about the orders you get, come talk to me. I used to be the Guildmaster. There's a few things I might tell a promising %PCRank. Seek Eydis Fire-Eye in Balmora to get your feet wet or Hrundi in Sadrith Mora if you're up for some challenges. You may also speak with Lorbumol gro-Uglakh in Vivec for your orders."
Quests Given
[
edit
]
Related Quests
[
edit
]