Morrowind:Daedric
The UESPWiki – Your source for The Elder Scrolls since 1995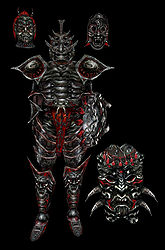 "Daedric weapons are made from raw ebony which has been refined using the craft and magical substances of the lesser minions of Oblivion. The process is not a pleasant one for the Daedra involved, and the weapons retain echoes of preternaturally prolonged suffering endured during manufacture. Daedric weapons are the most rare and expensive weapons known in Tamriel." - Garothmuk gro-Muzgub
An alternative way to acquire the protection of Daedric Armor without finding all of the pieces is to use Bound Armor spells. These share the appearance and stats of standard Daedric Armor, in addition to carrying some useful Constant Effect enchantments. Their only drawback is that they are temporary, and disappear when the spell wears off. In addition, there are no Bound Greaves or Bound Pauldrons effects in the game, so you cannot get a complete suit of Daedric Armor this way. Bound Daedric armor is considered light armor, rather than heavy armor. Therefore, it increases your Light Armor skill rather than Heavy Armor. Bound Armor also does not take your skill into account, always having 65 armor rating.
Name
ID
Enchant
Base Daedric Armor (Heavy Armor)
Totals
354
8,650
257,000
450.8
Daedric Cuirass

daedric_cuirass

90.0
2,400
70,000
80
60
Daedric Left Pauldron
Daedric Right Pauldron

daedric_pauldron_left




daedric_pauldron_right

30.0
800
24,000
80
6
Daedric Left Gauntlet
Daedric Right Gauntlet

daedric_gauntlet_left




daedric_gauntlet_right

15.0
400
14,000
80
60
Daedric Greaves

daedric_greaves

54.0
800
44,000
80
7.5
Daedric Boots

daedric_boots

60.0
800
20,000
80
26.3
Daedric Shield

daedric_shield

45.0
1,600
34,000
80
150
Other Items
Daedric Face of Inspiration

daedric_fountain_helm

15.0
650
13,000
65
75
Daedric Face of Terror

daedric_terrifying_helm

15.0
750
14,000
75
75
Daedric Face of God

daedric_god_helm

15.0
800
15,000
80
75
Daedric Tower Shield

daedric_towershield

45.0
1,600
50,000
80
225
Armor Locations
[
edit
]
Daedric Armor is incredibly rare. In some cases, only one example of each piece exists, and in order to acquire them you will have to take them from their owner: Divayth Fyr. Since Divayth is an Essential character to the Main Quest, it is highly inadvisable to kill him in order to obtain these items prior to completing his portion of the story. A safer, but by no means simple method is to repeatedly cast Disintegrate Armor spells on him until the armor breaks, cast Calm Humanoid to stop him from attacking you, and then pickpocket the broken armor off of him. This is only necessary in order to acquire the Cuirass and the Pauldrons, as the other pieces can be found elsewhere (and there's an enchanted version of the Cuirass given by Mistress Therana as a reward for a quest). Fortunately, if you have both Tribunal and Bloodmoon installed, there are other ways to acquire these missing pieces which do not involve harassing or killing an essential character in the game. One piece, the Tower Shield, can only be found randomly by killing golden saints.
Daedric Boots

Daedric Cuirass

Daedric Face of God

Daedric Face of Inspiration

Daedric Face of Terror

Daedric Greaves

Daedric Left Gauntlet

Daedric Right Gauntlet

Daedric Left Pauldron

Daedric Right Pauldron

Daedric Shield

Daedric Tower Shield
Be aware that a full set of Daedric armor (not including helm or shield, which combined add 60 pounds) weighs 294 pounds, still over half your total encumbrance at 100 strength, and requires at least 60 strength to wear without becoming over-encumbered. This makes it by far the heaviest armor in the game, 88 pounds heavier than a similar suit of Ebony armor. Additional pieces, such as a shield or helm, will require even more strength to wear, meaning that you will probably have to make use of Fortify Strength or Feather effects if you wish to put your suit to practical use (carrying it with weapons, potions, scrolls, etc.). Considering how heavy Daedric weapons are (a Daedric longsword weighs 60 pounds, three times the weight of a steel longsword), it is a good idea to enchant your armor with Fortify Strength effects to avoid having to carry even more equipment just to wear your already massive suit. If you choose to offset the weight by wearing only some parts of a full Daedric set, note that helms provide the most armor by weight, while greaves and boots are the least efficient. Helm, gauntlets and cuirass provide 50% of the armor of a full set - and the four most enchantable body segments - with only 135 weight. Also note that there is a quest-reward set of daedric cuirass and greaves available with a constant 50-point each feather effect; while a daedric cuirass can be better enchanted with strength, the enchanted greaves are the most armor-for-weight efficient in the game, with an effective weight of 4 pounds.
Special Armor Items
[
edit
]
| | |
| --- | --- |
| Daedric Boots | |
| Daedric Cuirass | |
| Daedric Greaves | |
| Daedric Face of Terror | |
| Daedric Left Gauntlet | |
| Daedric Right Gauntlet | |
| Daedric Shield | |
Weapons
[
edit
]
| | Name | ID | | | | Chop | Slash | Thrust | Speed | Reach | Enchant |
| --- | --- | --- | --- | --- | --- | --- | --- | --- | --- | --- | --- |
| | Daedric Arrow | daedric arrow | 0.3 | — | 20 | 10 - 15 | — | — | — | — | — |
| | Daedric Battle Axe | daedric battle axe | 90.0 | 4,800 | 50,000 | 1 - 80 | 1 - 60 | 1 - 8 | 1.0 | 1.0 | 16.5 |
| | Daedric Claymore | daedric claymore | 81.0 | 5,600 | 80,000 | 1 - 60 | 1 - 52 | 1 - 36 | 1.25 | 1.0 | 21 |
| | Daedric Club | daedric club | 36.0 | 1,600 | 10,000 | 10 - 12 | 4 - 8 | 4 - 8 | 1.5 | 1.0 | 12 |
| | Daedric Dagger | daedric dagger | 9.0 | 700 | 10,000 | 8 - 12 | 8 - 12 | 8 - 12 | 2.5 | 1.0 | 6 |
| | Daedric Dai-katana | daedric dai-katana | 60.0 | 7,200 | 120,000 | 1 - 60 | 1 - 52 | 1 - 30 | 1.35 | 1.0 | 21 |
| | Daedric Dart | daedric dart | 0.4 | — | 4,000 | 2 - 12 | — | — | — | — | — |
| | Daedric Katana | daedric katana | 54.0 | 4,800 | 50,000 | 3 - 44 | 1 - 40 | 1 - 14 | 1.5 | 1.0 | 18 |
| | Daedric Long Bow | daedric long bow | 24.0 | 1,000 | 50,000 | 2 - 50 | — | — | — | — | 10.5 |
| | Daedric Longsword | daedric longsword | 60.0 | 3,200 | 40,000 | 2 - 32 | 1 - 44 | 4 - 40 | 1.35 | 1.0 | 18 |
| | Daedric Mace | daedric mace | 45.0 | 4,800 | 24,000 | 3 - 30 | 3 - 30 | 2 - 4 | 1.3 | 1.0 | 15 |
| | Daedric Shortsword | daedric shortsword | 24.0 | 1,500 | 20,000 | 10 - 26 | 10 - 26 | 12 - 24 | 2.0 | 1.0 | 12 |
| | Daedric Spear | daedric Spear | 42.0 | 1,000 | 20,000 | 2 - 9 | 2 - 9 | 6 - 40 | 1.0 | 1.8 | 15 |
| | Daedric Staff | daedric staff | 24.0 | 1,200 | 14,000 | 2 - 16 | 3 - 16 | 1 - 12 | 1.75 | 1.8 | 21 |
| | Daedric Tanto | daedric tanto | 12.0 | 1,100 | 14,000 | 9 - 20 | 9 - 20 | 9 - 20 | 2.25 | 1.0 | 6.6 |
| | Daedric Wakizashi | daedric wakizashi | 30.0 | 1,100 | 48,000 | 10 - 30 | 10 - 25 | 7 - 11 | 2.25 | 1.0 | 13.5 |
| | Daedric War Axe | daedric war axe | 72.0 | 3,200 | 30,000 | 1 - 44 | 1 - 24 | 1 - 6 | 1.25 | 1.0 | 15 |
| | Daedric Warhammer | daedric warhammer | 96.0 | 8,000 | 30,000 | 1 - 70 | 1 - 60 | 1 - 4 | 1.0 | 1.5 | 16.5 |
Weapon Locations
[
edit
]
Daedric Arrow

Daedric Battle Axe

Daedric Claymore

Daedric Club

Daedric Dagger

Daedric Dai-katana

Daedric Dart

Daedric Katana

Daedric Long Bow

Daedric Longsword

Daedric Mace

Daedric Shortsword

Daedric Spear

Daedric Staff

Daedric Tanto

Daedric Wakizashi

Daedric War Axe

Daedric Warhammer
Special Weapon Items
[
edit
]
| | |
| --- | --- |
| Daedric Battle Axe | |
| Daedric Claymore | |
| Daedric Club | |
| Daedric Dagger | |
| Daedric Dai-katana | |
| Daedric Dart | |
| Daedric Long Bow | |
| Daedric Longsword | |
| Daedric Mace | |
| Daedric Spear | |
| Daedric Staff | |
| Daedric Warhammer | |
| Daedric Wakizashi | |
| Other | |