Lore:Warp in the West
The UESPWiki – Your source for The Elder Scrolls since 1995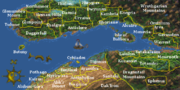 In 3E 417, events stemming from the death of King Lysandus of Daggerfall set in motion an upheaval in Hammerfell and High Rock. This event is called the Warp in the West, the Miracle of Peace,[1] or the Second Numidian Effect.[OOG 1] An unknown hero, who is believed to have been an agent of the Blades, gained control of a mighty artifact known as the Totem of Tiber Septim.[1] While unable to use it themselves, it is believed that the major factions of the Iliac region engaged in a bidding war, attempting to purchase the artifact. In the end, Sentinel, Wayrest, Daggerfall, Orsinium, and the Emperor all gained control of this artifact and used it to control Numidium and thus consolidate their political powers, somehow at the same exact time.[1] On the 9th of Frostfall, there were forty-four city-states. On the 11th, after a number of mysterious cataclysms and anomalies, there were only four—Sentinel, Wayrest, Daggerfall, and Orsinium—all swearing loyalty to the Emperor.
Other consequences of the totem's usage have had less well-known ramifications. It is believed that Mannimarco, the King of Worms, used the totem to give himself the power of a god. The Underking is believed to have reclaimed his heart using the totem, giving him the death he had sought for so long and creating an anti-magic zone in a several mile radius around the area. The agent of the Blades is believed to have been killed in the process.[2]
References
[
edit
]
Note: the following references are not found in-game. They are included to provide a rounder background to this article, but may not reflect established lore.