Lore:Bergama
The UESPWiki – Your source for The Elder Scrolls since 1995
This page is currently being redesigned for the Lore Places Project (LPP).
The page may need work to meet the standards outlined on the project page.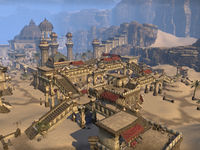 Bergama is a city in western Hammerfell, best known for being an enclave of the Alik'r Desert.[1]
In 2E 582, the magistrate of Bergama made a secret deal with the Worm Cult, delivering them several citizens, in exchange for the Cult sparing the city. Her actions were exposed by the Vestige.[2]
In the late Third Era, the city of Bergama was the capital of the Barony of Bergama.[3] Immediately following the Warp in the West, this region came under the dominion of Sentinel. According to a Blades' spy in the area at the time, there was an intense roar akin to a sandstorm and the populace seemed to just skip a day of their lives in an instant to learn the region was overrun by Sentinel troops and the Lord of Bergama's fortress was destroyed.[4]
See Also
[
edit
]
For game-specific information, see the Daggerfall and ESO articles.
References
[
edit
]