Lore:Antiphyllos
The UESPWiki – Your source for The Elder Scrolls since 1995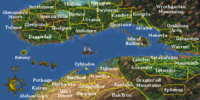 Antiphyllos is a political entity found in the province of Hammerfell, in the region of the Iliac Bay. The Grandees and Princes of Antiphyllos are known to share heriditary connections with the Phyllocid Dynasty, through the Meritorious Zizzeen and High King Fahara'jad, both prominent leaders in the Interregnum.[1] The nation's capital is known as Antyphyllos, found on the southern section of the county, before it seemlessly merges with the Alik'r.[2] The Anthotis clan of vampires and the witches Coven of the Dust are active in the region.
History
[
edit
]
Antiphyllos is known to show great respect to Divad Hunding, one of the greatest heroes of Redguard's history. The national holiday, Divad E'tept is venerated across the region, mourning the death of the warrior. He was interred in a private tomb somewhere in Antiphyllos,[3] although sources say that he is kept in the Hall of Heroes.[4]
The Grandees of Antiphyllos are the progenitors of the Phyllocid Dynasty, who maintained the High Kingship of Hammerfell during the province's time under the Second Empire and the Interregnum. One of these High Kings, Fahara'jad served as the Prince of Antiphyllos and comes from an auspicious background, paternally he comes from Grandee Makala, who descended from the worthy King Ar-Azal, while maternally, he derives from the Grandees of Antiphyllos.[5] His son, the heir-apparent, Prince Azah was known as the "Lion of Antiphyllos."[6]
By the late-Third Era in 3E 405, the County of Antiphyllos was ruled by an unnamed Countess. It was neighbored by several other nations, such as Ayasofya to the northeast, Sentinel to the northwest, and the Alik'r Desert all around.[7] When the province was incorporated in the Third Empire, the county was given a patron deity in the form of Mara, who is represented through the Benevolence of Mara. When the Warp in the West occurred across the bay, the northern section of Hammerfell (including Antiphyllos) was swiftly taken over by the Kingdom of Sentinel, between the dunes of Abibon-Gora and the western edge of Mournoth. At the time, this newly-expanded kingdom was under Queen Akorithi.[8]
Gallery
[
edit
]
See Also
[
edit
]
References
[
edit
]
^ Divad E'tept description in Daggerfall
^ To Walk on Far Shores story quest in ESO