Legends:Chaos Arena
The UESPWiki – Your source for The Elder Scrolls since 1995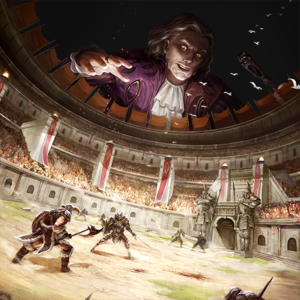 The Chaos Arena is an event in The Elder Scrolls Legends. It is centered around Sheogorath and features an updated temporary Arena and ten new cards. All players who log in during the event get a free core set card pack, to be delivered after the event.
The first Chaos Arena took place from December 14, 2016 until December 20, 2016, and it was popular enough that it was made a monthly event.
New Cards
[
edit
]
Ten promotional cards have been added to all Arena modes, and are available to be purchased as part of the Madhouse Collection:

Two special offers were added to the store to coincide with the first Chaos Arena event. The are purchasable with money or in-game gold:
Every match features a special scenario or lane type: both existing and new ones. The avatar art is humorously edited, and the lanes feature art specific to the type of lane, as well. Standard modes are still available during the event.
New Scenarios
[
edit
]
Hero's Call – Before the game, shuffle three unique creatures into each player's deck
On a Roll – Players start with a Sweet Roll in each lane
Power Unleashed – Players start with 3 additional magicka
Sheogorath's Game – Both players start with Wabbajack
Spawning Pool – Both players start with a Slaughterfish in different lanes
To the Death! – Player one starts with a Gladiator Arena in play
Your Own Worst Enemy – Players switch decks at the start of the game
Zoo – When you summon a creature in this lane, transform it into a random animal
Flanking Lane – When a creature is summoned in this lane, give friendly creatures in the other lane +1/+0
Chaos Arena Lane Art

[

edit

]
New titles have been added, including several ornate titles.
Ornate Titles:
[
edit
]
Basic Titles:
[
edit
]
The Chamberlain of Sheogorath - Complete one Chaos Arena event.