Skyrim:Gjalund Salt-Sage
The UESPWiki – Your source for The Elder Scrolls since 1995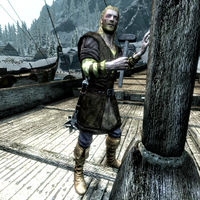 Gjalund Salt-Sage is the Nord captain of the Northern Maiden, and offers passage to Solstheim. Sogrlaf and Lygrleid are his crewmen.
Originally from Riften, Gjalund has been sailing for twenty years. He used to fish off the coasts of Solstheim, but ash from Red Mountain poisoned the waters, so now he ferries supplies and people to and from Raven Rock.
Your first interaction with him will vary depending on whether or not you have met and fought the cultists sent to kill you. If you have not encountered them, he greets you with "If you're looking for passage to Solstheim, you won't find a finer vessel than the Northern Maiden." He will then charge you 250 gold for transport. If you have encountered the cultists, he will instead say, "If you're looking for passage to Solstheim, too bad. I'm not going back there anymore." You then must convince him to take you by bribing, persuading, or intimidating him. Bribing him costs 500 gold, persuading or intimidating him is free.
Related Quests
[
edit
]
If you are over-encumbered, he will accept your fee for travel but you will not travel from Windhelm to Raven Rock or vice versa.
During It's All In The Taste, you can only offer sujamma to the version of Gjalund in Windhelm.
Conversations
[
edit
]
Adril:
"

I was starting to wonder what happened to you."

Gjalund:
"

We, uh... we were delayed by bad weather."

Gjalund:
"Before you even ask... yes, I have the supplies you requested. But..."
Adril:
"But what?"
Gjalund:
"This load cost me double what we had agreed on. Nothing I can do about it."
Adril:
"Damn it, Gjalund. You know we don't have that much coin."
Gjalund:
"Look, the East Empire Company didn't give me a choice. They've raised their prices again, and there's nothing I can do about it."
Adril:
"After all these years, they're gouging us for every last drake we have. Let me talk to Lleril. I'll see what we can do."
Gjalund:
"All right, Adril. Don't worry about rushing it. Just pay me when you can."